Tips and tricks from the HEIDENHAIN Service department
Do you have questions related to our Service department?
Look here for information that will quickly enhance your daily work.
Connecting an IO-Link Master
HEIDENHAIN controls provide numerous ways to link and control automation solutions. With the PROFINET-IO fieldbus interface, controls can use acyclic communication to address IO-Link sensors and actuators through an IO-Link master. This, however, requires that the control be adapted to the specific characteristics of the IO-Link master being used. This is where the HEIDENHAIN Service department can help.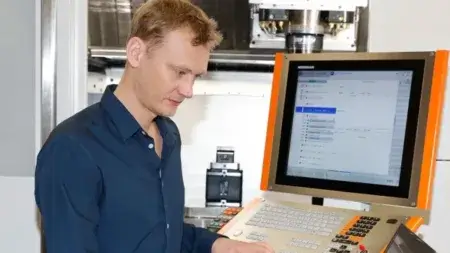 IO-Link is a globally standardized technology for communication with sensors and actuators. Its benefits include simple, standardized wiring, continuous communication between the control and sensors or actuators, and continual diagnostics information down to the layer of sensors and actuators.
The cyclic communication of current process data (switching signals, analog values, etc.) also works smoothly with fieldbus participants such as PROFINET devices. The cyclic data of the PROFINET data word are both mapped and used as usual in IOconfig. Acyclic communication, however, is more complicated because it is contingent on the specific characteristics of the IO-Link master being used. Acyclic communication concerns device data (parameters, identification data, and diagnostics information) and events (error messages and warnings) that are written to and read from the IO-Link device.
HEIDENHAIN does not provide its own IO-Link master for its NC controls. Nevertheless, IO-Link masters can be connected over the PROFINET-IO fieldbus interface. In order for the NC control to address IO-Link devices using acyclic communication, the descriptions of the connected devices must be processed and mapped in the NC control.
The flood of existing IO-Link masters, of which there may even be variations within a device series and between firmware jumps, can be difficult to cope with due to the many possible device combinations. This requires in-depth knowledge of the memory allocation of IO-Link sensors or actuators and of IO-Link masters. This is why the HEIDENHAIN Service Department offers support for the commissioning and operation of these kinds of configurations.
You receive a directly usable IOconfig library handling both cyclic and acyclic data exchange. You don't need to expend resources on research or for establishing a working connection between the selected IO-Link master and your NC control from HEIDENHAIN.
Here is an overview of your benefits:
No need to become familiar with the internal hardware structures of the IO-Link master or of the IO-Link specifications.
Parameterization and backup of all parameters over the IO-Link plug-in in IOconfig.
Capability of both editing device data and responding to events during run time.
The completely configured hardware design of the IO-Link master as an IOconfig library.
Before we can prepare a quote, we need comprehensive information about your IO-Link master. You can send us this information via a convenient online form. A link to the form is provided as part of the query submission process. We will also need you to temporarily provide us with the actual IO-Link master to be connected.
Do you (e.g., a machine manufacturer or automation partner) need further information, or would you like to know how we can help you with your specific connection setup? Then simply contact us:
If you are the user of a machine with a HEIDENHAIN control, then please contact your machine manufacturer first.