Tips and tricks from the HEIDENHAIN Service department
Do you have questions related to our Service department?
Look here for information that will quickly enhance your daily work.
Cleaning and Repairing of Linear Encoders
The faultless functioning of a linear encoder is decisive for the accuracy of the machine or plant. But the function is affected by countless influences of the daily environment of the shop floor: dust, grease, oil, water and dirt are everywhere and anytime and accumulate on the linear scale or scale tape and scanning head. It is advantageous if there is a strong partner to assist you with a fast repair!
The HEIDENHAIN linear encoders are known to be contamination-tolerant, but they are eventually also seriously affected by the contamination deposits. And it is only natural that even the best device is not immune to a defect – despite the best maintenance. In order to keep machine standstill as short as possible in case of a contaminated or defective linear encoder, HEIDENHAIN subsidiaries are especially prepared for the maintenance and repair of sealed linear encoders.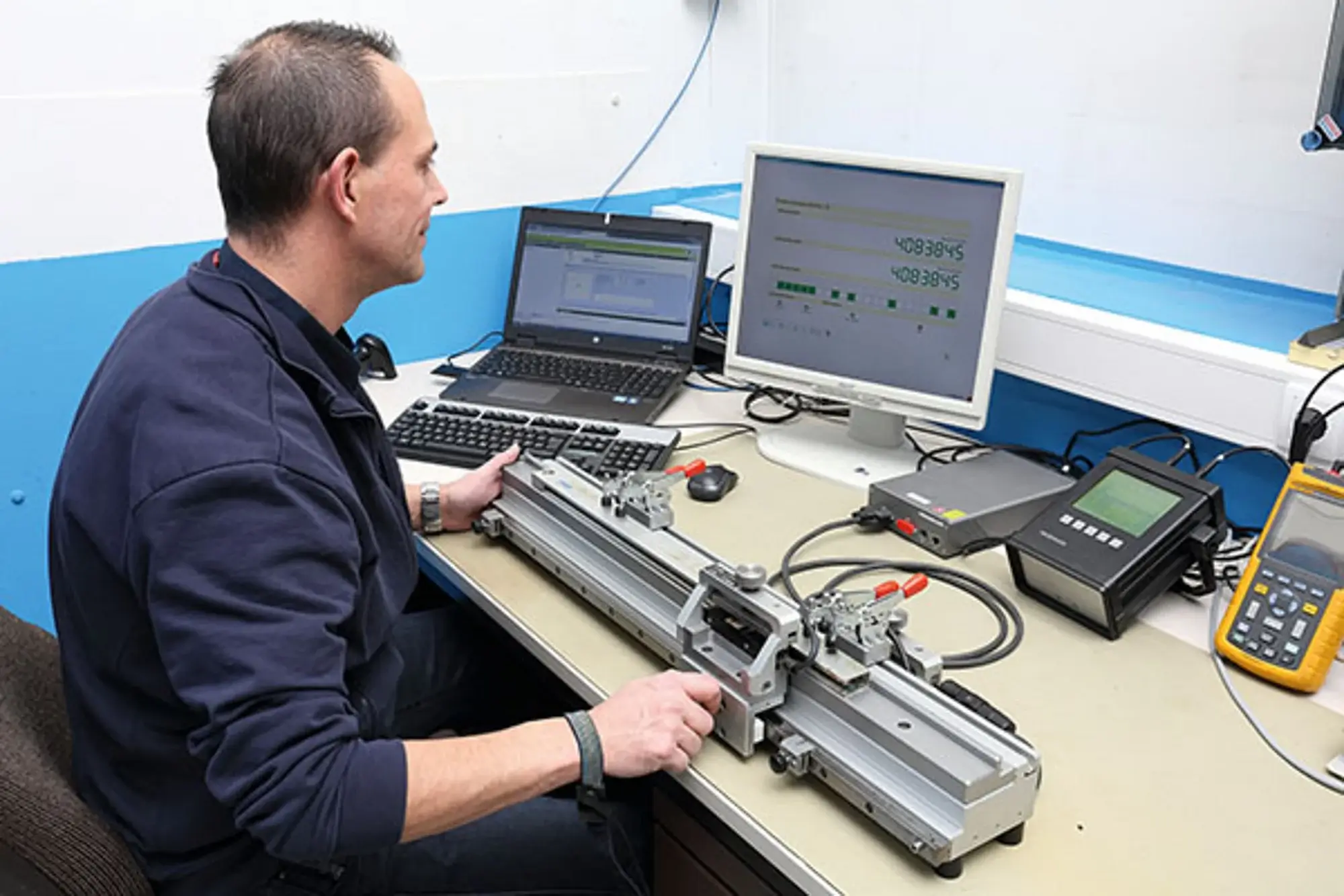 You can choose from three customer-friendly possibilities:
You dismount the contaminated or defective encoder yourself and bring it to the HEIDENHAIN subsidiary in your vicinity. In many cases you can wait and take the cleaned and repaired device with you again. There is no surcharge for such a rush repair service! Of course you can also send in the unit, but then you have to take the freight times into account.
Selected linear encoders are available in the Service Exchange. Here you receive an exchange unit which can be incorporated immediately. You dismount the defective encoder and bring or send it to the HEIDENHAIN subsidiary. This option can be recommended especially if the repair requires a greater investment of time and effort.
You trust the service of your HEIDENHAIN subsidiary completely and call for a service technician to come to your workshop. The service technician inspects, cleans and repairs the linear encoder on site.
Your advantages:
Cleaning and repair are fast and inexpensive
Short downtimes even in case of complicated repairs
Simple procedures and convenient organization of the maintenance or repair
All HEIDENHAIN subsidiaries ensure these services by means of:
Efficient workshops with especially qualified personnel
A well-assorted store with a large stock of replacement parts
The workshop is equipped with:
Long cleaning stands with high-pressure cleaner and ultrasonic basin for efficient removing of stubborn contaminations on the scales
Traversing devices for the simulation of the mounting situation of the linear encoder of the machine
Test and measuring devices for adjusting the repaired units