Tattoo Machine Developer "Ups His Game" with New CNC
When a professional tattooist who also develops and sells highly sought-after tattoo machines is stifled by the speed in which his creativity can manifest into new versions, it's time to look for a better system.  And that's exactly what Dan Kubin (www.dankubin.com) did last Fall in order to better meet the needs of his customers and his business.
Typically selling out of his new rotary tattoo machines every week within hours of his Sunday website uploads, Kubin is "upping his game" after the acquisition of a Webb milling machine equipped with an ACU-RITE MILLPWRG2 control.  "I can now do my own prototyping much more quickly and efficiently than before," explained Kubin, "and with the ability to use programs and create arcs, lines and pockets at the touch of a few buttons, I have increased the options and availabilities of my unusual tattoo machines by leaps and bounds.  I've really been able to up my game."
And "unusual" they are.  Accepting orders, as well as visitors from all over the world, Kubin's very popular tattoo machines, are reminiscent of the Steam Punk style which embodies futuristic characteristics of an industrial era, often utilizing bright brass and copper.  "If it is Steam Punk, that is unintentional. All I can say is that I like this look, as well as the use of brightly colored finishes, and working with brass and copper," added Kubin who is also a practicing tattoo artist having done both for many years. Kubin started his interest with the tattoo business in 2005 during his time in the Air Force where he served as a machinist and welder.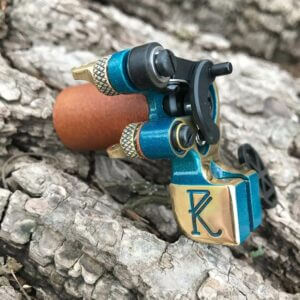 Until recently, Kubin has been designing and developing his tattoo machines manually, then outsourcing the machining in bulk.  He explained that since he has so many different machine designs with much custom work, and that they keep changing, it had become very frustrating for all involved to keep up with his evolving creativity.  "So I finally decided to buy my own milling machine with a control in order to develop my new parts exactly the way I want them when I want them," explained Kubin.
The Transition
Residing in Independence, MO, Kubin decided to visit Accurate Measurement Systems (AMS) in St. Louis last Fall and bought their new WEBB 4EVS-XL-HC-220V demo milling machine right off the floor.  "It blew me away," added Kubin.  "This machine with the ACU-RITE MILLPWRG2 control allows me to do all kinds of things right in my home shop.  With it now, I can do rapid prototyping.  I have the two-axis version with a "Turbo" power knee so I am able to develop any crazy idea I have just by drawing something up in CAD and then loading the DXF file directly into MILLPWR via USB.  I then tell it how deep I want to cut it, and move.  I've been making all kinds of cool stuff!  And I'm selling more tattoo machines than ever.
"In the past, I was using a small benchtop mill with a DRO and a rotary table," explained Kubin, "and a new tattoo machine prototype usually took me a full day and a half to make a basic frame.  Now with the G2, it takes maybe a half day for the first one, and since I'm programming as I go, the second one takes about an hour!"
Ed Albeitz at AMS confirms Kubin's situation: "Previously Dan had a simple home hobbyist-type milling machine that enabled him to develop his unique tattooing machines, but his creativity was flowing much faster than he could produce new prototypes.  And since his market demand continues to swell due to the appearance and performance of his rotary tattoo machines, he felt a driving force to acquire something that could get his ideas to the CNC shop quicker.  The G2 has allowed him to do that."
There are multiple features on Kubin's new machine with the G2 control that Kubin likes best, including the fact that his machine has a W axis coupled with the Quill as well as X, Y and Z.  This allows him to move his knee up and down manipulating the W axis, and his 0 never changes.  The G2 control compensates for that, and nothing needs to be re-set.
"I can now do more lines on a horizontal, vertical, or an angle,  arcs and pockets than before," added Kubin.  "I am currently working on a project that requires quite a few mating pieces that have very specific arcs, etc.  I could never have been able to prototype this with this current level of accuracy before." MILLPWRG2 uses ACU-RITE SENC 150 1µm (0.00005") linear encoders for positioning and feedback.
"One of my most-used milling functions on the G2 is now the circle function," added Kubin.  I use it to make certain pockets.  This function allows me to not have to have a drill bit or an end mill, and I still can get the pocket done since I can easily make a box come up.
Kubin added that the use of a tool probe with the G2 is "also probably one of the biggest things that now speeds up everything. I can now touch off my part and calculate where my datum will be right on the control.
"And I also love the fact that I can easily look at the program and make modifications.  This G2 control facilitates a very quick and easy way to make complex designs, including all the ideas in my head!"
"Because of this, my new lineup of tattoo machines this year totally blows everything else out of the water.  I've really been able to hone in and precisely cut out exactly what I want.  And when I mess up, I can just change my program a little bit and start over easily!  I still use my local machine shop for mass production, but this changes the prototyping procedures totally, making it much quicker, and allows for creative changes much more easily.  Saving time and money for all involved!  I'd say my new machine has made its money back ten times over!"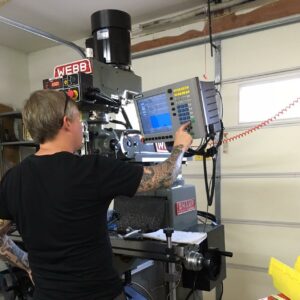 When asked about his lifestyle and family, Kubin explained that he still does professional tattooing in his town at a private studio two days a week, and then works at his impressive home workshop in a side house on his property the rest of the week.   From there, he creates exciting new tattoo machine which he often brings to the studio and tries out on willing customers.  "Part of tattooing for me is strong product development.  You really don't know what a machine is going to do until you put the needle to the skin.  A lot of my success is due to my wonderful and willing customers."
And Kubin's family are big supporters as well.  "My family supports and is proud of me," says Kubin. "They see that someone without a college degree, but with passion, ideas, motivation and some training, can do well and make a good living."
Albeitz added "Although Dan did not invent the rotary tattoo machine, he has developed the business of designing and producing them as a true art form. As one might expect, AMS does not normally deal with anyone in this particular line of work, but with the ACU-RITE MILLPWRG2 married to the right machine tool, just about anything is possible.  Just ask Dan!"