Service partners available throughout U.S.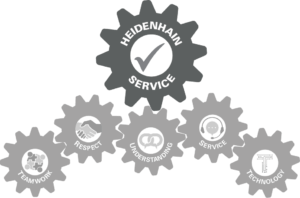 We know that when a machine is down in any business, time is of the essence and it's important to have a go-to to put things back in action. That's why we at HEIDENHAIN support our customers with a strong and growing Service Partner network providing quick and affordable turnaround all across the country for those in need of a fix of their HEIDENHAIN precision measurement component(s).
As simply one more part of HEIDENHAIN's continuing Customer First initiative, the main Service Department located in Schaumburg, IL, has expanded its reach to currently include eight additional trained and certified U.S. machine tool companies to provide service. Currently there are three partners in the East, three in the West and two in Central U.S. As part of their training, these eight service providers have committed to a 24-hour turnaround time to engage with those in need in the field with a focus on reducing downtime.
Whether dealing with a local Service Partner or HEIDENHAIN direct in Illinois, service options always include troubleshooting, a direct repair, component exchange or replacement if necessary. Often working with a local Service Partner will reduce wait times and cost to the customer. If engaging with a local Service partner, all business interactions and transactions will be handled quickly and directly with them as no middleman is required.
Those in need of service may call HEIDENHAIN directly at 847-603-4018 and if the fix could be handled quicker by a local partner, all will be connected. HEIDENHAIN customers also have the option to contact a Service Partner directly. Click to see the complete list.
Technical support is also available via the Service page, where you can send us a message or schedule a call.