See Us at SEMICON
July 10, 2012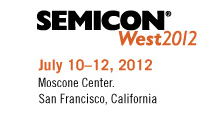 SEMICON (July 10 -12) in San Francisco provides a great opportunity to see HEIDENHAIN's new technology, and to meet old and new business partners. Positioned under the HEIDENHAIN flag at the Moscone Center, personnel at the HEIDENHAIN booth (#1718) will demonstrate the latest in linear, angular and rotary encoder precision measurement technologies, and be on hand to discuss the various innovative ways to boost speed, precision, repeatability and throughput across the fab line.
The HEIDENHAIN booth also promises to host multiple displays including an interactive machine showcasing the significant effects of thermal expansion on machine accuracy, and another of a "Roadmap" detailing exciting product plans by HEIDENHAIN over the next five years. This Roadmap display is not to be missed for those involved with future semiconductor product developments within their own companies.
Proving its already 450 mm ready, the HEIDENHAIN booth at SEMICON will showcase a few of its top products, including:
The Highly Precise LIP 200 Series Encoders
This year, HEIDENHAIN's newest technologies from the R&D department have been bundled into the LIP 200 encoder family, launching with series production this year. This highly precise exposed linear encoder can make innovation possible for machine designers in semiconductor, flat panel, and metrology industries. Starting off with a 512 nanometer signal period, and constructed with high quality optics and electronics, the encoder can push through the barrier of measuring high resolution with high velocity. With a capability of up to 3m/sec velocity while measuring a step size of 31 picometers, machine designs can now take advantage of maximum speed coupled with high precision for that extra bit of throughput. The ZERODUR® scale comes in lengths up to 3m meters along with bi-directional reference marks and the read head has either the 1Volt peak to peak analog interface, or high speed serial EnDat interface.
New Installation Tool, the PWM 20
When installing HEIDENHAIN encoders onto a machine, users want to make sure that they can build in the most safety margin into the encoder signals as possible. To do that, they need a device that will be flexible, easy to use and portable, and ensure that the encoder is installed as best as can be. The PWM 20 is the newest installation tool from HEIDENHAIN that can install encoders with EnDat, 1 Volt peak to peak, TTL, and 11 microamp interfaces, all in one device. The PWM 20 has its own power supply and plugs into a computer via USB 2.0 connection. The ATS version 2.6 software walks the installer through various mounting wizards, depending on the encoder type and is Windows 7 64-bit capable.  With a reduced size and reduced pricing from HEIDENHAIN's previous PWM 9 device, the PWM 20 normalizes installation of encoders.
Absolute Linear Kit Encoder LIC 4000
Absolute encoder technology, where every position along the scale has a unique serial word, has been around for years, however never before in this kit style format as in the LIC 4000 family of encoders. Previously, customers had to align the reader head to several tracks and keep very tight mounting tolerances. Now, due to some major advancements, HEIDENHAIN can offer an easy to align reader head with 1nm resolution and lengths up to 27 meters. Outputting the high speed serial EnDat 2.2 interface, which allows the encoder to reach velocities up to 8m/sec, the LIC 4000 is well suited for the semiconductor, flat panel, and a wide range of other applications. Savings on limit switches and productivity gains due to the fact that no referencing must take place after power down are just a couple of the benefits of the LIC 4000. Come to our booth at SEMICON 2012 for a demonstration and learn more about the built-in preventative maintenance, EnDat 2.2 at 16 MHz, and three different thermally conscious ways to mount the LIC 4000 to your machine!