Rejuvenating a Massive Vintage Machine Tool to Greatness
March 14, 2018
Change is not easy when unusually massive size is involved, but that was the challenge in 2010 when it came time to discuss updating the super-large gantry mill at Major Tool & Machine (MTM) in Indiana to meet the needs of today's customers.  Originally commissioned in Germany soon after the Berlin Wall fell, this SCHIESS FZG6 (DSI) mill was thought to be one of the largest in the world.  MTM executives even built a separate building for it in Indianapolis, and it was put into service in 1996.
At the time of commissioning, Gunther Zimmermann was hired by MTM and came from Germany to oversee the project. Having established roots in Indiana, Gunther became a U.S. citizen and remains an important employee at MTM.  "We have many significant machine tools here, but this is a very unique machine and our largest," MTM CNC Controls Engineer Zimmermann explains.  "Its bed goes 40 feet into the ground, its workspace is huge, and it has both 5-axis milling and turning capabilities. Handling the machining of large parts for many years, it has proven to be a true work horse."  MTM manufactures hardware for a variety of industries including aerospace, power generation, commercial industrial, and the nuclear power markets.
"But technical developments have come a long way in over 20 years," expressed Zimmerman.  So in 2014, the SCHIESS (DSI) machine rebuild began and included complete retrofitting of the electrical system, new CNC control/drive systems, and new position feedback with HEIDENHAIN absolute linear scales.  "Absolute technology in super long scales was not even available a few short years ago!" explained Zimmerman.  After more than 2 years of work, the 1990s SCHIESS (DSI) gantry mill is now working with all the agility and precision that 2017 has to offer.
The Process
The major steps of the SCHIESS (DSI) retrofit started in late 2014 with contracting FIVES Cincinnati to overhaul the electrical system and the CNC control and drive.  It then moved to the removal of the ram, which was replaced with a FIVES Cincinnati design who was instrumental in the rebuild. With that came a built-in spindle motor and C-axis; including all the newest developments in drive technology, explained Zimmermann.
The staff replaced the existing milling heads/adapters with five new ones, plus one for turning mode.  In the middle of all this, they re-leveled the machine and re-adjusted all the geometries, resulting in the next step of putting new feedback on the machine, in this case, new HEIDENHAIN linear scales on six master axes to provide it with the latest advances in measurement feedback technology.  All connect to the new control system, including the non-machining axes, the total number of configured axes and spindles is 20.
The SCHIESS (DSI) machine master axes travels are extraordinarily long with the two X axes at 740" each, the Y axis is 377", the Z axis is 98" and the two W at 115".   Zimmermann explained that the original mill already had HEIDENHAIN LB linear scales on the machine, but the new HEIDENHAIN LC 201 absolute linear scales offered major improvements and new features.  "The HEIDENHAIN encoders get better every year," added Zimmermann.
"The entire rebuild process took about two years, with partial use of the machine during various stages," explained Zimmermann who said a time-elapse camera was set up to film the course of the rebuild: The rotary table on this rebuilt machine is six meters in diameter, and is capable of contouring together with all other machine axes, providing positioning accuracy of less than 10 arc sec.  Four different milling heads up to 100 hp (75 kW) and maximum spindle speeds up to 2800 RPM are in place.  It also has turning capabilities, and using a turning head with CAPTO tool holders; the table in this mode can run up to 60 rpm and has a part weight capacity of 125 metric tons (280,000 lbs.).
Before the rebuild, one of the most time-consuming procedures used to be the referencing of all the axes before being able to machine parts.  Because of its size with a 22-meter travel in X and 10-meter travel in Y alone, start-up took much time.  "It was typically a half an hour before the machine was even ready to work," explained Zimmermann.  "So the option to go with the new long absolute linear scales that were recently introduced by HEIDENHAIN was discussed with area integrator Tech Tools Inc. (South Bend, IN), and the decision was made to go with those when they were available.  Using absolute scales makes axes running as a Gantry System much more reliable since the CNC knows their location immediately after start-up."
Why Absolute?
"Major Tool wanted to save time, so we knew absolute scales would eliminate having to home out the machine," explained Casey Binder, Vice President at Tech Tools.  "Absolute scales on a machine tool allow the user to power up the machine, move it, and it knows exactly where it is and be ready to go. This is especially important if a power outage were to occur, which is not uncommon in Indiana in early Spring!"
"Also, the challenge of retrofitting this particular machine at Major Tool was the extraordinary size and the lengths of its axes.  At the same time, it was important that we ensured that whatever linear scales were to be used would maintain very tight tolerances and accuracies," explained Binder. "With the kind of work that they do, even a few micron (µm) is very crucial. And HEIDENHAIN really is number one in feedback so we were confident with the recommendation."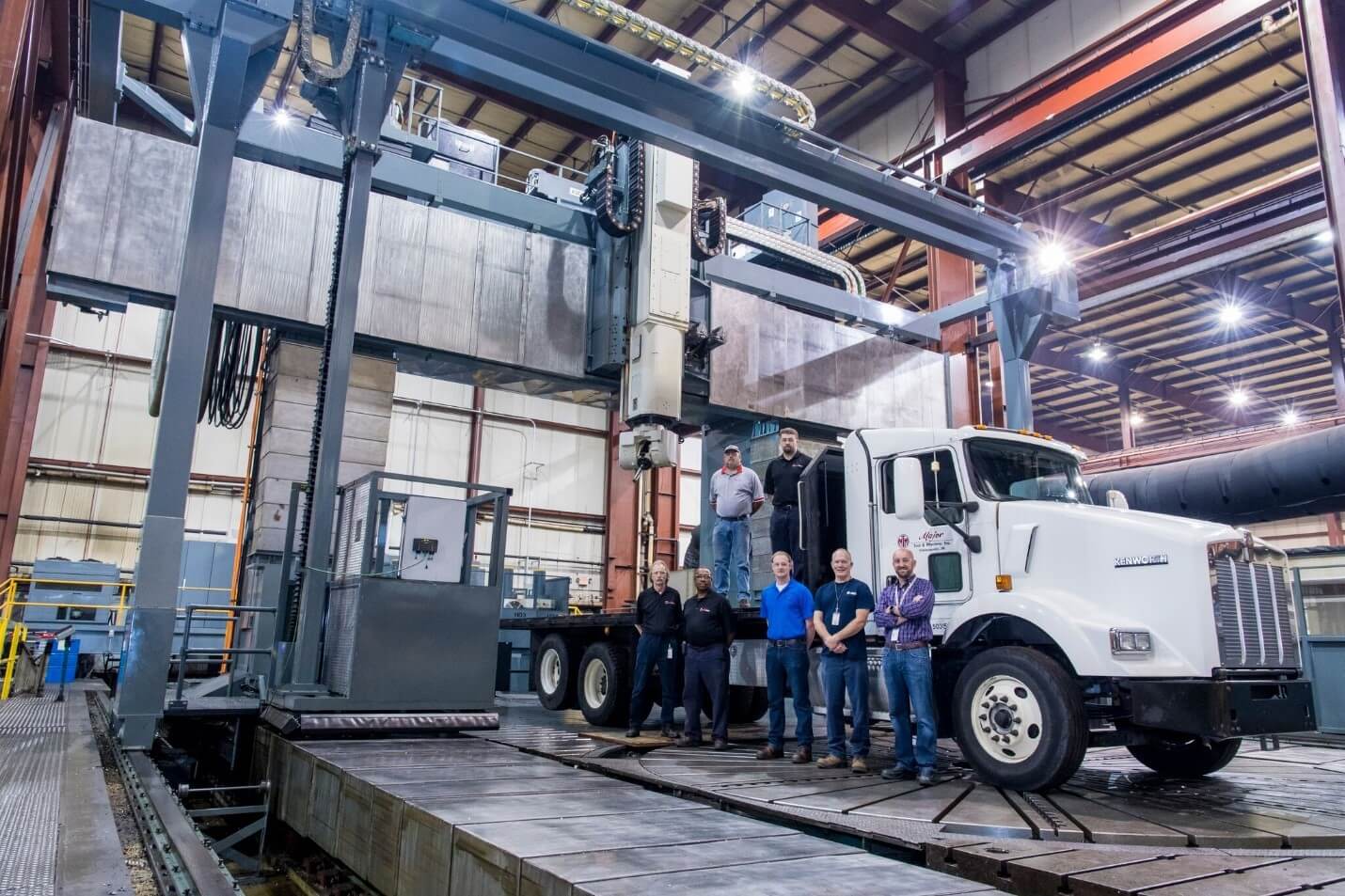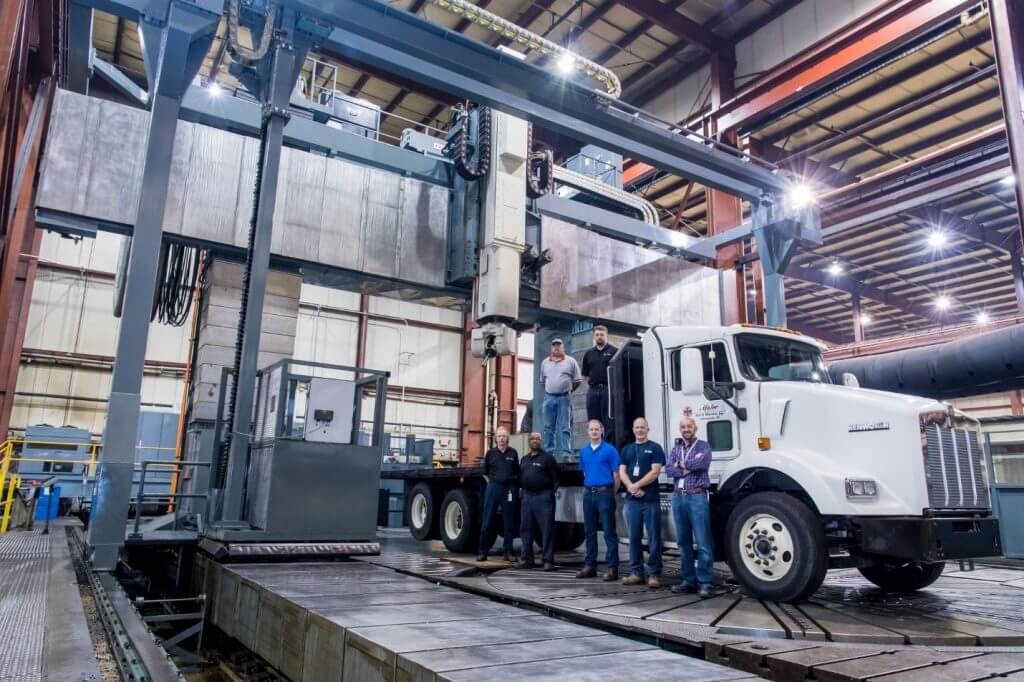 To make it happen, HEIDENHAIN provided the new very long linear scales:  two at 3,640 mm (one standard and one mirrored), one at 10,440 mm across the head and the two granddaddies at 21,040 mm each, the longest HEIDENHAIN absolute scales to be sold to date in the U.S.  "This is HUGE!  The largest I've seen in my 17 years here," exclaimed Binder whose staff handled the installation.
The decision to use the HEIDENHAIN LC 201 absolute linear scales has been a success.
"They have been working great," added Zimmermann who explains that the machine went into full power working mode in October 2016.  He also explains that the main machining axes continue to maintain their accuracy targets, in fact staying below them, as the scale's positioning accuracies are achieved in conjunction with laser equipment and CEC compensation in the control (see sidebar for master axes specs).
"These absolute linear scales are saving us time, as we can see right away all positions at turn-on, where the axes are and what the skew is between the two Gantry sides, which keep bad things from happening," explained Zimmermann. "In fact, all our encoders here at Major Tool are HEIDENHAIN.  Even in the other 14 machines, we retrofitted here since 2010! Though again, this was our largest and we're happy with its success!"