Popular LIF 400 Linear Encoder Family Enhanced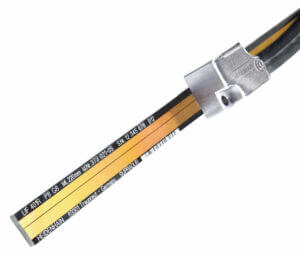 SCHAUMBURG, IL (June 2018) – After more than 10 years of success in the marketplace, HEIDENHAIN's LIF 400 family of encoders has been redesigned with several improvements. The updates to this exposed linear kit style encoder originated from listening to customer requests over the years, and now comes with much improved contamination resistance, among other enhancements. The new LIF 400 series has a position noise value of 0.6 nanometers at 1MHz and a low interpolation error down to +/- 12 nanometers. Industries that could take advantage of this encoder are semiconductor, metrology, micromachining, and medical.
One of the major updates is the incorporation of the HEIDENHAIN Signal Processor (HSP1.0) custom ASIC into the scanning unit. This ASIC helps lower the interpolation error, and also powers through contaminations on the scale as it adjusts the LED intensity every signal period while moving at up to 4 meters per second.
This compensation adjusts the amplitude and phase of the signals so that the control sees constant perfect signals even with contaminants such as large fingerprints, dust, and wafer pieces that may be on the glass scale.
Another addition is a status LED on the connector that indicates the status of the incremental signals and can also be used as a general mounting indication. It's a simple red/green display for the signals and blue for a good reference mark signal.
Also, the connector is now smaller versus the older version, which saves space and improves accessibility when plugged into tight spaces. This 15 pin male connector is 27mm shorter than the previous version.
Like the previous version, the mechanics of the scanning head do not change, and scanning units can be ordered with the 1-volt peak-to-peak interface with 4-micron signal period, or TTL versions with resolutions down to 10 nanometers. The glass scale is also unchanged.
About HEIDENHAIN
Dr. Johannes HEIDENHAIN GmbH, headquartered in Traunreut, Germany, develops and supports motion control feedback solutions for the machine tool, semiconductor, electronics assembly and test, metrology, automation, medical, energy, biotechnology and other global markets. HEIDENHAIN employs approximately 6,000 people worldwide in its core business activities. The North American subsidiary is HEIDENHAIN CORPORATION, headquartered in Schaumburg, IL, and San Jose, CA, and has been serving the U.S. industry for over 50 years.
For more information, contact HEIDENHAIN's Product Manager Kevin Kaufenberg at 847-843-2380.