New Wave of DRIVE-CLiQ Compatible Encoders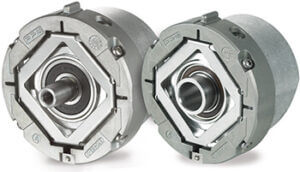 HEIDENHAIN previously introduced the use of Siemens DRIVE-CLiQ communication protocol into its 400 series rotary encoder product line in November 2013. Now this interface is also available in its ECN/EQN 1300 optical absolute encoders.
The ECN 1324S is a single-turn encoder with 16,777,216 (24 bits) of resolution.  The EQN 1336S rotary encoder also has 24 bits of resolution in the single-turn range while additionally tracking 4096 (12 bits) revolutions.  Both of these encoders are part of HEIDENHAIN's new Functional Safety encoder lines, meaning they qualify for SIL 2 designation according to EN 61508 and Category 3 PL d according to EN ISO 13849-1:2008.  These encoders can be ordered with either a 9.25 mm taper shat or a 12.7mm blind hollow shaft.
DRIVE-CLiQ is an Ethernet-based protocol which interfaces with SINAMICS control systems. With a speed of 100 Mbit/s and a cycle time of 31.25 μs, DRIVE-CLiQ has the performance required for demanding applications. Motion control system components with DRIVE-CLiQ are automatically configured with each other since every component has an electronic label.