LTN products ideal for camera/surveillance systems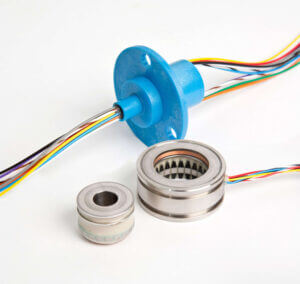 SCHAUMBURG, IL (April 2018) – Meeting the needs of the latest camera technology, LTN Servotechnik GmbH offers state-of-the-art slip rings and resolvers for use in video surveillance systems by supporting the transfer of images and videos with ever higher resolutions over 360° of coverage. LTN's latest SC020 slip ring and RE-15 resolver are capable of being combined into a custom product tailored to any application requirement. This is also of special interest to equipment designers in need of slip rings that are robust, reliable and affordable.
LTN slip rings, such as the SC020, can transfer power and transmit video signals in HD TV quality, so that the latest camera technology can be used for panoramic capture. With a plug-and-play design, supporting data transmission rates of 10Bbit/s, the LTN slip rings are a top choice in the industry.
In addition, LTN provides resolvers, like the RE-15, that generate the feedback to support the precise alignment of the cameras from the control center. Due to the knowledge of both these technologies, LTN is uniquely able to combine the resolver and slip ring together in to a custom product tailored made to for many application requirements.
The global success of the LTN products in surveillance systems is founded on a deep technical understanding of the industry and familiarity with the highly specialized assembly processes for terminal devices. LTN has been a proud supplier of slip rings and resolvers used for security cameras for over 15+ years and can be found in in video surveillance systems with CCTV cameras or for the monitoring of water systems, as well as others all over the world.
LTN Servotechnik GmbH is based in Germany with exclusive North American distribution through HEIDENHAIN CORPORATION in Schaumburg, IL. LTN specializes in providing components to the international machine builders and plant engineering industry. The worldwide network of sales and service offices is the backbone of the traditionally-oriented company's global activities. LTN's product line is largely composed of slip rings and resolvers, leaning on application know-how to provide customers with tailored solutions to individual problems.
About HEIDENHAIN
Dr. Johannes HEIDENHAIN GmbH, headquartered in Traunreut, Germany, develops and supports motion control feedback solutions for the machine tool, semiconductor, electronics assembly and test, metrology, automation, medical, energy, biotechnology and other global markets. HEIDENHAIN employs approximately 6,000 people worldwide in its core business activities. The North American subsidiary is HEIDENHAIN CORPORATION, headquartered in Schaumburg, IL, and San Jose, CA, and has been serving the U.S. industry for over 50 years.
More information is available from North American Product Specialist Jonathan Dougherty at 847-519-4218 or online.