LTN's Next Generation of Wind Turbine Slip Rings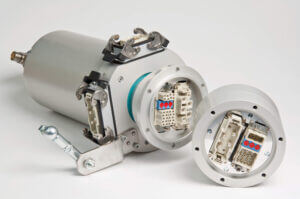 SCHAUMBURG, IL (November 2018) – Within the wind turbine industry, double-fed asynchronous generators are dominate. In order to address the electromechanical connection needs of these turbines, LTN is proud to offer the SC168 slip ring, a robust slip ring with a universal-hole pattern for different generator types.
The LTN SC168 is a low-maintenance slip ring with high quality contact technology, which has proven to be reliable and cost effective for many major wind turbine manufacturers globally. It is suitable for wind turbines in the multi-megawatt class with electric pitch systems and is designed to be compact and cost-efficient.
To increase the lifetime of the generator rotor slip rings, and thus reduce the operating costs for the owner, LTN developed this high-quality, low-maintenance generator slip ring featuring a universal-hole pattern. Among other things, it incorporates a multi-phase rotor which is connected using terminal bolts. The slip ring is made from high-grade insulation and contact materials and the special design reduces abrasion at the brushes, allowing long creepage distances and preventing voltage flashovers.
The modular design of the SC168 slip ring can easily be adapted to specification. Auxiliary components such as heaters, encoder or fiber optical rotary joints can be seamlessly integrated as well. Optimal transfer of data for Ethernet-based field buses, PROFIBUS, CAN-bus or similar field buses can also be achieved when using this slip ring.
LTN Servotechnik GmbH is based in Germany with exclusive North American distribution through HEIDENHAIN CORPORATION in Schaumburg, IL.
LTN specializes in providing components to the international machine builders and plant engineering industry. The worldwide network of sales and service offices is the backbone of the traditionally-oriented company's global activities. LTN's product line is largely composed of slip rings and resolvers, leaning on application know-how to provide customers with tailored solutions to individual problems.
More information is available from North American Product Specialist Jonathan Dougherty at 847-519-4218.