Leine & Linde's Advanced Diagnostic System Ideal for Sustaining Paper Mill Production
CONTACT:
Jonathan Dougherty, Automation Product Specialist, 847-519-4218
Kathleen Stoneski, PR Manager, North America, 847-519-4702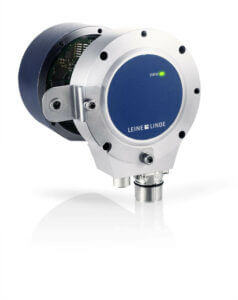 Schaumburg, IL (March 2017) – Reliability is a key factor within the pulp and paper industry. Production stoppages are very costly and it is key to avoid these whenever possible. For sustained production and condition monitoring capability, Leine & Linde now offers an integrated Advanced Diagnostic System (ADS Online) which monitors the environmental and operational parameters of the encoder to establish the status of the encoder and report this information out to the system operator.
This result of this Leine & Linde system is in more efficient production, as maintenance and operational personnel now have the power to plan preventative maintenance during scheduled maintenance cycles to further evaluate and replace encoders, thereby avoiding unplanned production stoppages.
Leine & Linde's 800 series of rotary encoders is already a popular solution in the pulp and paper industry. Currently they are used to regulate the speed of the rollers driving the paper forward with a high level of accuracy. These robust and accurate encoders have played a central role in such systems to this point, and now the 800 series of encoders boast the capability of integrated diagnostics in its entire line. Utilizing the new ADS Online, all these encoders can now provide additional problem-solving information.
Until now, Leine & Linde's new ADS Online capabilities had only been offered as an optional module for existing encoders. The newest versions of Leine & Linde's 850 shaft encoder and the 861/862 hollow-shaft encoders have now incorporated this functionality as standard into the encoder foundation.
The addition of online access to the current capabilities of Advanced Diagnostic System (ADS) also brings enhanced functionality with vibration and temperature monitoring. ADS Online monitors a number of parameters that are fundamental for the encoder function such as: output voltage level is correct, output states change correctly, the correct number of pulses are present each revolution, and that the optics performs within defined levels for supply current and brightness. In addition, vibration levels, hours of operation and internal temperature are also measured and logged. The operator can set alarm levels on any of these parameters, as well as set logging intervals for trend evaluation. By monitoring trends in performance, it is possible to predict end-of-life conditions and plan maintenance activities before a failure occurs.
For more information on these encoders, contact Jonathan Dougherty at HEIDENHAIN at 847-519-4218, or write to HEIDENHAIN Corporation, 333 E. State Parkway, Schaumburg, IL 60173.
Leine & Linde is based in Sweden with exclusive North American distribution through HEIDENHAIN CORPORATION in Schaumburg, IL. Leine & Linde is well known for offering high quality, heavy duty encoders of both the incremental and absolute type, are noted for their product robustness and design to cope with the harshest of environments, such as those with high vibration, dirt and cold temperatures. These heavy, severe duty encoders are suited for drive and measurement applications and are often found in industries such as pulp and paper, forest and wood processing, agriculture, aggregate and mining equipment.