Leine & Linde Ethernet/IP™: Ideal for AGVs
CONTACT:
Jonathan Dougherty, Product Specialist, 847-519-4218
Kathleen Stoneski, PR Manager, 847-519-4702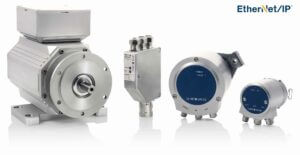 Schaumburg, IL  (October 2016) – Industrial automation applications using the EtherNet/IP™ communication network are well established worldwide, and are now being found in dedicated motion control applications. Autonomous Guided Vehicles (AGV) for example are now taking advantage of this industry standard using motion feedback provided by Leine & Linde encoders with integrated EtherNet/IP.
To improve warehouse productivity and reduce material storage area, racking and shelving systems have been designed to be so densely packed that human workers are not able to support the picking and transport operations. At the same time, more advanced planning and picking software also makes location accuracy paramount to effective operations. In such an environment, AGVs have become the new standard for material transports through the factory or warehouse. AGVs are mobile wheel-based robots that are designed to move material through a facility and in many examples are an integral part of the storage system itself.
A major advantage of EtherNet/IP encoders from Leine & Linde in AGV applications is that they can measure and communicate position, speed, and acceleration all in one cycle with cycle times as fast as 1ms, the fastest on the market today. Additionally, commissioning is simplified with these encoders. With automatic addressing, the encoder can receive and configure offset or set limit values, or scale measurement values without needing to open the encoder.
Leine & Linde's range of encoder products are suited to be used in a multitude of applications and are robust enough to operate in the harshest environments. The 900 series encoders with EtherNet/IP can also provide incremental outputs, thereby allowing it to support high performance drive applications. In demanding environments where space is an issue, Leine & Linde's 600 series encoders with EtherNet/IP™ is the choice. This ø58 mm encoder is available in anodized aluminum or stainless steel with hollow and solid shaft configurations.
Leine & Linde is based in Sweden with exclusive North American distribution through HEIDENHAIN Corporation in Schaumburg, IL. Leine & Linde is well known for offering high quality, heavy duty encoders of both the incremental and absolute type, are noted for their product robustness and design to cope with the harshest of environments, such as those with high vibration, dirt and cold temperatures. These heavy, severe duty encoders are suited for drive and measurement applications and are often found in industries such as pulp and paper, forest and wood processing, agriculture, aggregate and mining equipment.