Learning opportunity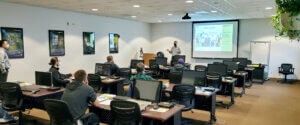 HEIDENHAIN and partner FRAISA recently welcomed a group of apprentices from the Technology Manufacturing Association to view some of the latest manufacturing technology advancements.
Here at HEIDENHAIN's Illinois headquarters, the students watched demonstrations of 5-axis and 3+2 machining, as well as used some of the HEIDENHAIN training simulators via an interactive training utility called HIT. Other related topics covered included touch probe technology and Industry 4.0/connected machining through HEIDENHAIN's StateMonitor system.
Other students, instructors and teachers such as those at trade schools who wish to view current products handling 5-axis machining and related topics are encouraged to contact HEIDENHAIN to take advantage of similar free offers. These sessions can be done at the suburban Chicago location with CDC safety guidelines in place or online via WebEx for the rest of North America.
For more information, contact HEIDENHAIN at tncappliations@heidenhain.com