Did you know that the TNC 640 is a mold makers dream?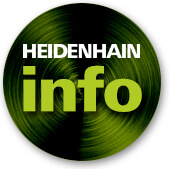 It is no secret in machining and especially in mold-making that vibration is one of the biggest problem for machinists.  "To do our best jobs, we need machining systems in place to handle deviations and chatter," said Bill Minello, Machining Manager at Windsor Mold Group in Windsor, Ontario, Canada who must handle high mix, low volume situations daily.  The Windsor Mold Group has been manufacturing molds for over 40 years, and currently almost exclusively for automotive companies all over the world.
With a strong team in place working over a dozen machining centers in the company's Machining Department, the Windsor Mold Group has begun using exclusive new TNC functions from HEIDENHAIN that are allowing them to do things in ways not before possible.  Manufacturing molds for lighting applications to large molds for automotive fascia and exterior applications, Windsor utilizes control functions like Active Chatter Control (ACC) and Adaptive Feed Control (AFC) to achieve very high material removal rates, and produce quality parts right out of the shoot.
Family-oriented company in the tough mold making business
"We've made some great strides with ACC," Minello explains. Aside from the obvious reasons to use Active Chatter Control (ACC) and Adaptive Feed Control (AFC) (longer tool and machine life, high chip removal rate), one has to know about WMG's culture to understand the importance. Windsor Mold Group is a technology and continuous improvement-oriented company that puts a lot of emphasis on driving productivity and process efficiency while at the same time balancing that with workplace flexibility and reducing labor requirements through automation.  Eliminating heavy lifting is certainly one benefit, as well as the provision of work-life balance solutions such as individual start and finish times that agree with family life, leadership seminars and other employee training. These efforts are also being made in order to get the best people, and Bill notes, "Hiring high-caliber people is a key aspect to our success in providing our customers technology driven solutions."
The second reason ACC and AFC are so relevant to WMG is the nature of their business. When dealing with major car manufacturers, there is a huge amount of pressure to reduce costs, while processes become more complex. As a large variety of molds are part of the product portfolio; small to large molds, interior and exterior, front and rear lighting applications, WMG usually sees itself confronted with high-mix, low-volume, technology driven challenges. Therefore, the degree of automation facilitated through ACC and AFC helps to reduce costs, especially in the case of complex requirements and high technology molds.
TNC functions already help to meet customer requirements
For example, HEIDENHAIN's contour tolerance cycle (Cycle 32) is often used in WMG's mold shop floor as "there is a high demand for optic finishing with very small radii creating challenges during machining."
In plastic-injected moldmaking, tolerancing is paramount as the two sides of a mold must fit together precisely so that the plastic doesn't leak. In the industry this is called "seal-off condition". If high accuracy is pursued, it is advantageous to keep tight tolerances across the whole surface, even for larger molds to have better control of downstream processes. Since feed rates and the goal hierarchy within ATC can be altered (prioritize high accuracy, high surface finish, or fast machining), Minello states that this gives "great flexibility, with results in the best process that is most efficient for the application."
WMG takes advantage of combining ACC with AFC. This allows the process to run longer, using ACC in order to keep the spindle load within reasonable ranges as long as possible, and then exchange the tool automatically through the AFC function when the threshold is exceeded. In this way, WMG both extends tool life and has the automated process run longer, so that manual interference is less needed.
First exposure to ACC and acquisition of the option
Bill Minello first heard about ACC at EMO 2013.  "I was walking by and heard a machine humming. Then I heard the machine just go quiet. I had to stop and turn around and as I heard the hum diminish, I noticed the machine was still cutting. I ran back to my colleague and said, 'we have to figure out what's going on here'," he laughs, "because that's not supposed to happen."
As the machine itself was completely dampened, Minello asked for explanations: "What are we looking at here, is that a show trick or is that something that we can use?  And then they gave me the background on it because sometimes things look to be too good to be true and sometimes you just get lucky and you find something that's just really innovative, and that's just one of those."
"I knew immediately that this was a very good fit for us."
Minello learned how much research HEIDENHAIN had put into this function and that a deep understanding of both the machine and control was required to develop Active Chatter Control. He remembers as well the pride within HEIDENHAIN regarding ACC.
Tests done by WMG at the plant of the machine builder showed that in areas where more than usual material needed to be removed, ACC stabilizes the machine, eliminates vibrations and reduces premature wear on cutters.
At WMG, no calibration was required when ACC was implemented on the first machine as this was done by the machine builder. On the first software version there was still an ACC on/off button, but it was later removed. Service technicians from the machine builder recommended to permanently leaving ACC on. "Why would you ever want ACC not to be active, if you have vibration we can sense and counteract it? Why would you not want it?" Minello recites then. "So we didn't even put it as an option."
ACC is now active all the time, "in case anything ever happens it only is going to help you; ACC turns on with the machine and turns off with it. It is very straight forward, very simple."
On new machines, the HEIDENHAIN controller is preferred: "it's highly regarded." Further, there are more machines on order with the new TNC 640s and ACC enabled.
Windsor Mold Group's internal tests
There is also great testimony on internal tests that were performed at Windsor Mold Group. In these tests, five straight passes were milled with different step-downs in each pass. A 75mm cutter was used. Without ACC, vibrations were encountered at a 4mm step-down. These vibrations became undesirable at a 4.5mm step-down, when they had to shut the machine down. "It was too much. I was uncomfortable with it because it was our machine we were testing it on," Minello remembers.
Performing the test with the same cutter and ACC on, nothing happened until they tried 7mm, when the machine started humming. The vibration was still minor. "It was absolutely amazing," Minello recalls. He is sure that without ACC the machine would have "blown the cutter."  They also turned ACC on and off just to see the difference which was immense (see pictures).
As Minello admits, the difference in surface finish on the roughing is irrelevant, but it gives evidence of how much of the vibration could be removed. "I could actually feel it with my hand", the rings on the surface (ACC inactive, figure 1) compared to the smooth surface (ACC inactive, figure 2) on different passes was meant.
Before the test, he expected that he had to run unusual feed rates in order to find something, possibly low vibration and only minor differences. This was not the case: "You could actually feel the difference coming from the machine. It was unbelievable how much of a difference it was making."
On a recorded video, this can be seen and heard even more impressively.
"Vibration is the biggest enemy of machining there is," Minello explains. Another conclusion that could be drawn from the internal tests was that the differences were only that immense because of the high load due to the high step-down they took.
Outlook and future challenges in automated machining
When asked about future challenges, for Minello it comes down to people again: "The biggest thing is that we are developing our team." This is again linked to automation functions, and ensuring that people spend more time on value-add tasks.
"Minor tasks like checking a machine, making sure that everything is running properly, checking carbides – all that must go away." According to Minello, HEIDENHAIN has developed the right functions. "Having the proper systems in place so that the machine can monitor itself, just like AFC for spindle load and ACC for vibration is essential." Although Windsor Mold Group deals with high-mix, low-volume situations, processes can be repeated.
"Defining the process is critical so that you know the tool, you know the tool works in the required area, and if something goes wrong, you know the tooling and process can react to it. Without having somebody standing there, waiting for the possibility that maybe something will happen."
ACC and AFC guarantee stable and consistent processes that allow automating night and weekend machine runs. This gives many employees the flexibility to spend more time with their families, just as intended by the leadership of this family-owned company.