How interface electronics are enabling Industry 4.0
Just like encoders and motors have had to advance to meet the demands for higher throughput and smaller products, so have the interfaces they use to communicate. Automating production ultimately depends on the fast and accurate transfer of data. And the intensely competitive race to digitize and gather actionable data has put added emphasis on what an interface can handle.
What is an encoder interface?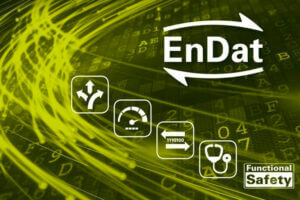 EnDat is an example of these interfaces, a digital, bidirectional connection between the encoder and the subsequent electronics. Along with position values, EnDat can now transmit data for a variety of uses, including evaluation of an encoder's function reserve through online diagnostics.
Encoder interfaces suited for Industry 4.0
Looking back at the evolution of the interface, we can see how it has adapted to the times of Big Data and Smart Manufacturing. The first version of EnDat, En
Dat 2.1, was introduced in 1995. It was a combination serial/analog signal with basic alarms, warnings and easy integration. The next generation, EnDat 2.2, was introduced in 2003 and marked the transition to purely serial data transmission. EnDat 2.2 also added a whole new layer of capabilities, transmitting actionable information on things like temperature sensors, functional safety and online diagnostics without sending a separate request signal.
A future-ready interface
The recently released EnDat introduced even more data-based features and transmission capability. It's a direct answer to the data, speed and accuracy demands of today's world. Before we look at all the different ways interfaces work and how they add value, let's look at the some of their latest capabilities.
High data volume and speed
Transmission of position values and sensor data

Send lists permit predefined communication for various operating scenarios
Up to 15 additional information slots per communication
Access to the encoder memory during normal operation

Extensive system monitoring for Industry 4.0

Automatic system installation and diagnostics
Sensor data

Short cycle times

15 µs can be achieved with very low position-measurement jitter

High bandwidth

12.5 Mbit/s at 100 m cable length, or 25 Mbit/s at 40 m
Advanced sensor compatibility and diagnostics
Electronic ID label for automatic system installation

Data for the encoder, motor, and system

Online encoder diagnostics

Together with further sensor data, forms the basis for condition monitoring and predictive maintenance

Storage of operating status data

Storage via the subsequent electronics
Data acquisition through the encoder
Functional safety
For safety-related applications up to SIL 3

Black-channel communication
Convenient implementation thanks to data separation for motion controller and safety controller
Encoder interface applications
Encoder interfaces like EnDat can be used with almost any encoder type or drive system and even some measuring tools—including several from within the HEIDENHAIN Family of Brands. Serial interfaces have proven versatile and effective across industries, and as technology has advanced there are specific modern applications where they are especially adding value.
Hardware EnDat can work with
Interfaces like EnDat can work with different measuring and scanning methods, both linear and rotary, depending on the optimal encoder for the application. These interfaces are also compatible with other equipment.
Absolute or incremental positioning encoders
Photoelectric, inductive or magnetic scanning encoders
Singleturn encoders
Multiturn encoders with gears
Multiturn encoders with buffer battery backup
Integrated encoder modules
Touch probes
Length gauges
Cabling variety

Hybrid cable technology
Bus operation
Integration of sensor boxes

Additional sensors

Sensors inside the encoder
External sensors
Interface compatible equipment
A vast majority of major drive manufactures globally have seen the benefit of EnDat and included the interface with their current and future offerings. Each year, more solutions and implementations come to the market supporting various functions of EnDat. Beyond its inclusion in subsequent electronics, EnDat is also available with the other brands in The HEIDENHAIN Family of Brands:
Leine and Linde
RSF
Numerik Jena
AMO
Automation interface applications
Automation and robotics depend heavily on the transmission of fast, accurate uninterrupted data from the machinery to a control or hub where data is saved or analyzed. These capabilities make analyzing and maintaining uptime a huge value add in automation environments:
HMC 2 hybrid cable
Bus operation
Sensor integration (e.g., easy connection of a temperature sensor inside the servomotor, with characteristic curve selection for a KTY 84-130 or PT 1000)
Acquisition and storage of operating status data
System information for automatic configuration
Enhanced diagnostic capabilities
Functional safety
Machine tool interface applications
In the violent world of metalworking, interface hardware must be able to endure the vibration and contamination associated with tens of thousands of RPMs, coolant, chips and heat and still send accurate signals—a millimeter can make the difference between a good part and scrap. Here are some of the interface characteristics to look for:
Mechanically robust cabling
Integration of complex sensors and sensor boxes
Multi-dimensional measurement technology
System information for automatic configuration
Enhanced diagnostic capabilities
Storage of operating status data
Functional safety
Electronics industry interface applications
The level of accuracy and precision required in industries like front- and backend semiconductor work means everything from the weight of the wiring to high-resolution measurements must be in synch. Here are a few ways the right interface helps makes it possible:
Weight reduction due to thinner cables and bus operation
Multi-dimensional measurement technology
System information for automatic configuration
Enhanced diagnostic capabilities
Storage of operating status data
Take a deeper dive into the evolution of interface electronics and the capabilities of systems like EnDat 3. From functional safety to advanced sensor transmission, the right interface unlocks to full force of Industry 4.0 in settings far and wide.