How controllers and feedback affect motor performance
The motor itself is one thing, but other components play important roles in the overall effectiveness of the motor, specifically, the controller and feedback device. We're in the unique position to have expertise in each, both as they relate specifically to motors and independently.
The impact of controllers on torque motors
The best torque motor performance is achieved when integrated with a fully digital controller with extremely high bandwidth capability. In a direct drive system, the controller can benefit from a very precise position feedback because there is no transmission in between the feedback device and the load. Because of this high-quality feedback signal, a high-end controller can compute advanced control algorithms at a very high frequency. Ultimately, the precision and the dynamics of the axis are drastically increased.
Some key factors to be taken into account when selecting a controller are listed below:
High frequency control loops (current, speed, and position loops)
High current and position loop bandwidths (typically >2 kHz and >100 Hz respectively)
High encoder interpolation factor to ensure adequate speed and position resolution
Advanced control algorithms (PID with feed-forward, state space regulators, observers, notch filters, etc.)
Advanced features: ability to compensate for cogging torque, stick slip, and other system repeatable phenomena.
The impact of encoders on direct drives
Direct drives place rigorous demands on position-signal quality. Optimum measuring signals increase the quality of the machined workpiece surface, reduce vibration in the machine frame, stop excessive noise exposure from velocity-dependent motor sounds, and prevent additional heat generation in the motor.
Generally, we recommend the use of encoders with optical scanning methods that provide benefits in the accuracy, speed stability, and thermal behavior of direct drive axes. Since there is no mechanical transmission between the encoder and the feed unit, the position encoder must have a correspondingly high resolution for precise velocity control at slow traversing speed.
A rough estimate to achieve good performance is 100 lines per pole. To achieve very high accuracy this value must be increased. Very high-speed applications may require a lower line count to limit signal frequency. When combined with the interpolation capability of the electronics, resolutions of less than 1 arcsec can be achieved.
Why choose torque motors from HEIDENHAIN
ETEL is a longstanding part of the HEIDENHAIN Family of Brands and has extensive experience in torque motor integration, including heat management. Since its founding in 1974, ETEL has been exclusively dedicated to the development of direct drive technology. Through numerous innovations and patented designs, ETEL continues to provide unmatched torque efficiency for the most optimized performance.
Technology expertise
In-house know-how in ironcore design provides the industry's most efficient direct-drive torque motors. Not only do we keep up on the latest trends in motion control, but we're directly involved many of the advances, in areas like force density, innovative options and integration.
Unmatched performance
Our design is well known in the worldwide direct-drive market as a high-performance product. For many years, the most high-end applications in the field have been driven by our motors.
Direct-drive expertise
HEIDEHAIN, ETEL especially, has been working strictly on direct-drive technologies for decades. In addition to the motor technology know-how, through the years, we've developed valuable knowledge about motion control by developing control electronics and fully integrated motion systems. Our deep understanding of the overall motion system helps us find the appropriate solution for our customers' needs.
High quality
High product quality is guaranteed by use of modern development tools and thorough qualification procedures. ETEL motors are manufactured in Switzerland according to highest quality standards.
Ease of integration
Torque motors themselves only come in two parts: a magnetic rotor for rotation and a stator to transmit its magnetic energy through its coil windings. Without the need of gearboxes or other mechanical parts, the motor can be mounted exceptionally close to a moving part allowing the system to be more compact than otherwise possible.  Along with that, the large hollow shaft of a torque motor allows for easy integration of outside components such as cables and cool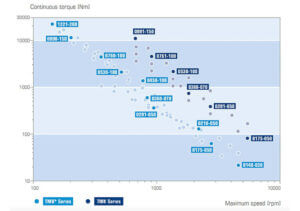 ing tubes. HEIDENHAIN torque motors are compatible with a wide range of control electronics for easy integration of a direct-drive solution.
Product range
With standard motors from 140 to 1290 mm in diameter and 38 to 42900 Nm of peak torque, HEIDENHAIN offers the largest selection of torque motors on the market.
Our torque motors have been successfully integrated with most major brands of servo controllers and CNC including: HEIDENHAIN, Siemens, Fanuc, Bosch, B&R, Kollmorgen, and Num. The majority of our torque motors can be ordered with or without water cooling channels. Furthermore, different winding types are available to best fit your unique applications.