HEIDENHAIN's Next Generation Feedback Components at SEMICON 2016
June 20, 2016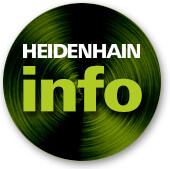 HEIDENHAIN and ETEL are pleased to showcase new and next generation motion control and feedback components for the semiconductor industry at the upcoming SEMICON 2016 trade show in San Francisco, CA, from July 12-14. HEIDENHAIN will have two booths across from each other:
HEIDENHAIN – Booth #1809
ETEL – Booth #1909
Showcasing a multitude of high quality encoders, scales and motion systems, HEIDENHAIN will highlight the ECA 4000 absolute ring encoder, the new ERO 2000 modular rotary encoder and the new ETEL brand XYZ3TH stacked motion system.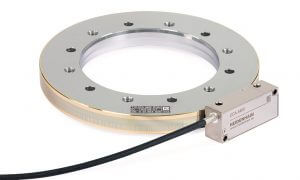 ECA 4000 Absolute Ring Encoder
The next generation of the highly successful ERA 4000 ring encoder is to be introduced at SEMICON, called the ECA 4000, and features a new design that enables it for use in angular motion feedback, and includes absolute technology. Common applications will include machine tool rotary tables, semiconductor wafer motion stages, and robotics to name a few.
The new mechanically-compatible ECA 4000 series comes in a wide range of outer diameters ranging from 104mm to 560mm so that machine designers can pass through cabling and other items through the center of the ring to streamline their design.
Each ring size has a unique line count on the outer diameter and an associated accuracy. For the largest ring diameter, an accuracy of +/- 1.5 arc seconds is specified for the graduation, and each ring is capable of resolutions to sub 0.01 arc seconds, all with high RPM potential. The two-track graduation design is also highly resistant to contamination like dust, fingerprints and scratches.
ERO 2000 Modular Rotary Encoder
HEIDENHAIN is meeting the market demand for high-speed, high-resolution modular rotary encoders for motion feedback with the launch of the ERO 2000 series encoder. The encoders' special properties are that they have a very compact design, excellent signal quality and therefore high interpolation rates, as well as excellent thermal position stability.
The introduction of this new ERO 2000 is the start of a series with additional sizes that will be launched over the course of the year that will fill various mechanical envelopes and a variety of applications. Some of those applications include piezo and galvanometer motors, micro positioning for goniometers, spindles, and other metrology.
The currently released design types include a scanning unit and two types of scales. The scanning heads come with a 1 Volt peak-to-peak analog interface, with TTL digital version planned this year with up to TTL x 2000 interpolation as a possibility. Position noise is measured to +/- 0.04" (arc seconds).
ETEL XYZ3TH Stacked Motion System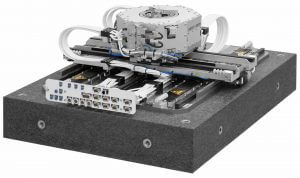 ETEL is pleased to announce its new XYZ3TH Stacked System as entering the already broad range of ETEL motion systems.  The VULCANO XY part of it is a three-piece-design stacked system resulting in a cost engineered solution providing high dynamics, great bidirectional repeatability, and outstanding position stability. It was born as a semiconductor front-end solution but can also serve many other applications.
The XY system is a mechanical bearing based platform, integrating ironcore linear motors, and mainly dedicated to point-to-point applications. The bottom axis is composed of two linear motors controlled in a gantry mode moving on three decoupled linear bearings. The upper linear motor lays on a stiff and light baseplate allowing travels larger than 650 mm.  The stage is easily configurable and can be outfitted with the module (theta, ZTheta, ZTheta Tip Tilt) best suited to each individual application.
Thanks to the flexibility of the platform, it is perfectly suited for front-end segment with wafer process control applications such as Overlay metrology, Critical Dimension and Thin Film Metrology, as well as back-end applications with advanced packaging related ones, to name but a few.
Come check it all out at SEMICON 2016!