HEIDENHAIN to Give Keynote at SEMICON West 2023
Schaumburg IL (June 2023) – HEIDENHAIN is pleased to announce its support of the SEMICON West event and symposium, taking place from July 11th to 13th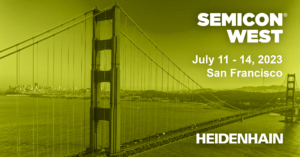 at the Moscone Center in San Francisco, CA.
HEIDENHAIN is part of the CEO Summit and will deliver a keynote on "Combining Accuracy and Throughput for the Next Semiconductor Industry Challenges", the speech will focus on the $1T industry growth objectives and supply chain, delivered by Dr. Lutz Rissing, Executive Officer and Member of the Management Board.
For high accuracy and precision applications, HEIDENHAIN, along with its Corporate Group brands, offers a comprehensive range of cutting-edge high-accuracy encoder and motion control solutions. These include HEIDENHAIN encoders, ETEL wafer position stages and motion controllers, as well as specialized encoders from NUMERIK JENA and RSF, known for their accuracy and performance in demanding applications.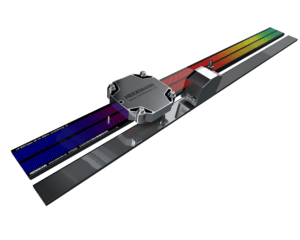 Wherever absolute accuracy is needed, MULTI-DOF TECHNOLOGY from HEIDENHAIN is the perfect solution. HEIDENHAIN's MULTI-DOF encoder technology enables a new dimension of accuracy with encoders that measure up to six degrees of freedom. The additional feedback from their MULTI-DOF TECHNOLOGY results in far greater measurement accuracy, letting you detect and compensate for system-relevant positional error in multiple dimensions.
To learn more about HEIDENHAIN's product and technology offerings for the semiconductor capital equipment market, including its recently introduced MULTI-DOF encoders, see the link provided.
https://semiconductor.heidenhain.com/
SEMICON West is a highly regarded event focused on key challenges impacting the global microelectronics industry, including supply chain disruptions, climate change, talent shortages and the industry's pursuit of reaching $1 trillion and achieving net-zero sustainability. Current semiconductor manufacturing technology trends also now bring together capabilities needed for both advanced front end of line and advanced packing applications manufacturing and process control applications.
More information about SEMICON West is available at www.semiconwest.org.
A high-resolution image for MULTI-DOF Technology can be found here.
Press contact:
Sarah Moreau, HEIDENHAIN CORPORATION Marketing Manager
smoreau@heidenhain.com or 847-519-4212