HEIDENHAIN to Exhibit at NAEC
NAEC 2023 l September 10-13 l Booth #344
Schaumburg, IL (August 2023) – HEIDENHAIN CORPORATION is thrilled to announce its participation in the upcoming NAEC (National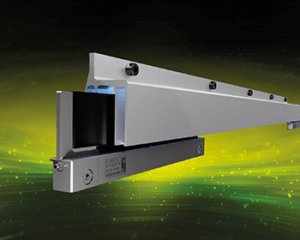 Association of Elevator Contractors) 2023 Convention & Exposition. Connecting professionals from all over the elevator industry, NAEC will take place from September 10-13 at the Reno-Sparks Convention Center, Nevada.
HEIDENHAIN CORPORATION will be located at Booth #344, stressing its dedication to advancing "Measurement Technology for Elevators of the Future". The spotlight will be on how elevator systems can be revolutionized with the use of advanced encoder technologies provided by HEIDENHAIN!
Key product showcases will include:
LINA 200, a newly developed linear encoder designed specifically for future cableless direct drive elevators. Engineered to deliver unparalleled speed and efficiency, its advanced double side scanning technology ensures redundancy and stability, providing robust support for elevator systems.
AEF 1300, the trusted main rotary encoders for elevator motors. Employing our advanced encoder technology, achieve precise control over vertical lift and speed measurements, ensuring optimal performance and safety. Designed with a focus on high reliability, this encoder series boasts proven technology and a robust design.
EnDat 3, the next-generation encoder interface capable of transmitting encoder data over just two wires. The purely serial design offers numerous benefits to applications in the elevator industry: improved data transmission, high speed performance capabilities, enhanced safety measures, and the possibility to integrate external sensor data.
NAEC serves as an essential platform for industry professionals, facilitating the exchange of advancements, technologies, and innovative ideas that fuel the future of the elevator industry. Click here to learn more and register for free: https://www.naecconvention.com/
High-resolution images for the following products can be found here: LINA 200, AEF 1300, EnDat 3
Product contact:
Stuart Graham, Automation and Metrology Specialist
sgraham@heidenhain.com or 847-254-8883
Media contact:
Sarah Moreau, HEIDENHAIN Marketing Manager
smoreau@heidenhain.com or 847-519-4212