HEIDENHAIN Introduces Mobile Encoder Diagnostics Tool
CONTACT:
Jonathan Dougherty, Product Specialist, 847-519-4213
Kathleen Stoneski, Public Relations Manager, 847-519-4702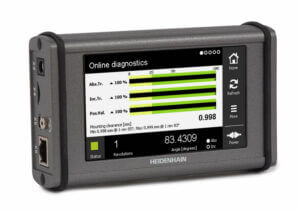 SCHAUMBURG, IL (April 2016) – HEIDENHAIN CORPORATION announces the release of its next generation testing device, the PWT 100. The PWT 100 is a compact standalone device used for checking the function and adjustment of HEIDENHAIN encoders, and is ideal for mobile use.
The new PWT 100 incorporates a 4.3-inch touchscreen used for display and operation, along with supporting multiple serial interfaces such as EnDat 2.2, Fanuc Serial Interface, Mitsubishi High Speed Interface, and Panasonic Serial Interface upon release. Further feedback options, along with incremental signals, will become available in the future through software expansions and firmware updates.
The PWT 100 supports a variety of functions depending on the encoder or the interface.
For encoders with EnDat interface, for example, the PWT is capable of displaying position values, enables the user to read out the online diagnostics, shift datums and use further inspection functions. For a full list of available functions please refer to the product information brochure .
In comparison to HEIDENHAIN's current PWM 20 inspection device, the PWT 100 has a simpler performance range with significantly larger measuring tolerances but can be used to complement the PWM 20 for checking the function of encoders.
The PWT 100 can be ordered with or without a service case. Depending on the order, a wall adapter power supply is included in delivery.
For more information, contact HEIDENHAIN's Product Specialist Jonathan Dougherty at 847-519-4213, or write to us at HEIDENHAIN CORPORATION, 333 E. State Parkway, Schaumburg, IL 60173. HEIDENHAIN can also be accessed directly via our web site at www.heidenhain.us.
HEIDENHAIN CORPORATION is the North American subsidiary of DR. JOHANNES HEIDENHAIN GmbH, a leading international manufacturer of precision measurement and control equipment. The product line includes linear scales, rotary and angular encoders, digital readouts, digital length gages, CNC controls, and machine inspection equipment.