HEIDENHAIN Assists in Sponsorship of Diabetic Alert Dog From Ron Santo Foundation for a Local Young Man in Need
April 10, 2017
SCHAUMBURG, IL (April 2017) – When Johnathon Wojciechowski of Bensenville, IL, was seven years old, he was diagnosed with Type 1 diabetes, and for the last seven years has altered his life to battle this debilitating disease. Now recently having started high school at Fenton, Johnathon has received a highly trained Diabetic Alert Dog (D.A.D.) from the Ron & Vicki Santo Diabetic Alert Dog Foundation, with partial sponsorship from HEIDENHAIN CORPORATION in Schaumburg, IL.
Named "Pickles," Johnathon's new constant companion is a black Labrador Retriever trained by Santo Foundation trainer Julie Noyes. With his keen sense of smell, Pickles can detect when Johnathon's blood sugar level is too low or too high, and will alert by barking and pawing to draw attention to the issue so that immediate remedy can be made.
"Johnathon has to test his blood sugar up to 10 times a day, but all tools are not 100% reliable. Plus if his level is low, Johnathon will not wake to his continuous glucose meter (CGM) alarm when sleeping," explained his mother Tammy Jo Wojciechowski. "Pickles can now help with all that. And since Type 1 diabetics cannot get energy from food as their pancreas does not work, they are insulin dependent. Diabetes can cause irreparable damage to major organs, causing the diabetic and their family to live in daily fear."
As many know, baseball great Ron Santo who played for the Chicago Cubs for 13 years lived and played with Type 1 diabetes. Unfortunately, after his retirement, the diabetes necessitated the amputation of both legs below the knees. He passed away in 2010 due to bladder cancer, and had a service dog by his side. During his life, Ron supported diabetic research, and since his passing, Ron's wife Vicki has continued the fight, now with this special organization to support those in need with D.A.D.s.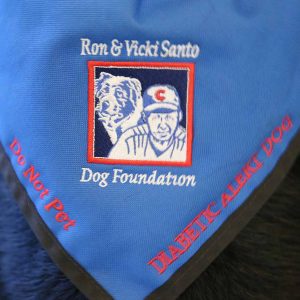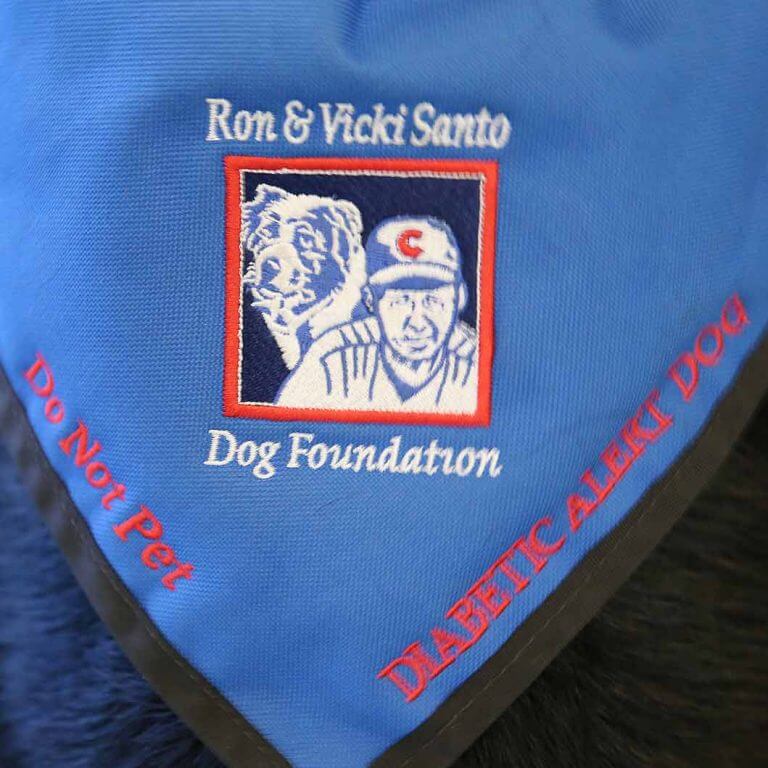 Vicki Santo explained, "Diabetic Alert Dogs provide many benefits to their owners, from guarded freedom, peace of mind and the confidence to follow their dreams." The training and servicing of these alert dogs is time-intensive and expensive, so sponsors are required for qualified candidates to be able to receive one. Johnathan's family worked with the foundation, and through fundraising and the generous donations of many, including HEIDENHAIN, Johnathan received Pickles in February.
"This is a great match!" explained Tammy Jo. "Pickles is an important addition to Johnathon's diabetic toolbox. Plus, they work really well together, and Johnathon is now able to handle high school easier and more independently. We expect that he will also be able to experience a successful and safe college life someday."
"We at HEIDENHAIN are happy to be able to support this worthy cause and continue to try to better our community," said Rick Korte, HEIDENHAIN CORPORATION CEO. "And we hope that other business owners feel the same."
Tammy Jo added, "We will always be grateful to all that have helped make this possible. There are no words of gratitude great enough!"
HEIDENHAIN CORPORATION is the North American subsidiary of DR. JOHANNES HEIDENHAIN GmbH, a leading international manufacturer of precision measurement and control equipment. The product line includes linear scales, rotary and angular encoders, digital readouts, digital length gauges, CNC controls, and machine inspection equipment.
Share: