HEIDENHAIN & ACU-RITE to exhibit at SOUTHTEC
SOUTHTEC l October 24-26 l Booth #228
Schaumburg, IL (October 2023) – HEIDENHAIN CORPORATION announces its participation at the SOUTHTEC trade show, scheduled from October 24-26, 2023, at the Greenville Convention Center in Greenville, South Carolina.
SOUTHTEC is recognized as the single best source to discover the next evolution of the manufacturing industry. Drawing manufacturing suppliers, distributors, and equipment builders from all over North America and around the globe, attendees are offered a comprehensive outlook of the most recent technologies and services.
At this event, HEIDENHAIN will focus on the theme "Improving Process Reliability for Machine Tools" at booth #228. HEIDENHAIN aims to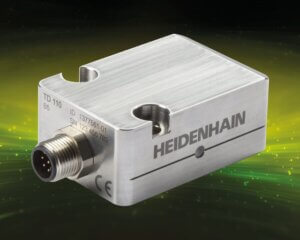 redefine process reliability in the dynamic realm of machine tools with its cutting-edge product lineup, alongside offerings from ACU-RITE, a member of the HEIDENHAIN family of brands. Visitors to SOUTHTEC can anticipate:
HEIDENHAIN TNC7: Enter a new level of CNC control. The TNC7 is intuitive, task-focused, and customizable – the ultimate solution for boosting efficiency and productivity in your manufacturing operations.
ACU-RITE's Digital Readouts – DRO100, DRO203, DRO300: Ensuring unparalleled precision. ACU-RITE's series of digital readouts not only enhances machine tool profitability but also boosts productivity and the quality of the machined workpiece.
HEIDENHAIN TD 110: Revolutionizing tool inspection. The TD 110, equipped with inductive sensors, offers rapid, contact-free inspections of drill bits and end mills, ensuring significant time and cost efficiencies.
MILLPWR G2: Powerful yet easy to operate CNC retrofit systems for knee mills and bed mills. Experience faster set-ups, shorter run times, and a major boost in productivity. With the new MILLPWRG2 control and retrofit kits, transform virtually any knee mill into a high-performance, profit-generating machine.
TURNPWR: Committed to streamlining manufacturing operations, TURNPWR significantly minimizes setup times and reduces scrap and other non-productive actions. It's the key to maximizing throughput and enhancing overall productivity.
droPWR: Redefining digital readouts with innovation. droPWR transforms an iPad® into an advanced digital readout. It combines an intuitive user experience with touch screen conventions and dynamically switches between milling, turning, and grinding. This dynamic tool saves both time and money with the ability to maintain multiple configurations on a single tablet and seamlessly switch from machine to machine. droPWR is a perfect fit for both the classroom and modern manufacturing environments.
Witness these state-of-the-art solutions from HEIDENHAIN and ACU-RITE at booth #228 during the SOUTHTEC trade show. You can also find HEIDENHAIN and ACU-RITE products at our valued channel partner booths, OSS LLC and Reliable Machine Tool!
High-resolution images for the highlighted products are available at: TNC7, DRO100, DRO203, DRO300, TD 110, droPWR, MILLPWR G2, and TURNPWR.
Product Contact – HEIDENHAIN: Gisbert Ledvon | Vice President of Marketing gledvon@heidenhain.com or 847-490-7812
Product Contact – ACU-RITE: John Parker l Business Unit Manager jparker@heidenhain.com or 716-456-3150
Media Contact – Sarah Moreau l HEIDENHAIN Marketing Manager smoreau@heidenhain.com or 847-519-4212