Free eBook on Solving Today's Motion Control Challenges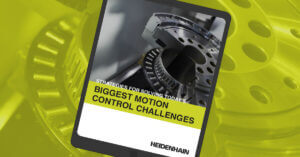 Each engineering project, each application, each system will always have its own set of complex motion control challenges. It's staggering how many variables can be involved. With decades of related experience, engineers from HEIDENHAIN are now offering practical engineering solutions to some of today's top motion control challenges in the form of a free downloadable eBook.
It's important to note that as motion control solutions —from angle encoders to direct drive motors for example— become even more ubiquitous in industrial situations, engineers face evolving demands, options and opportunities. Strategies from lowering the cost of advanced technologies with the right components like a motor or encoder, to improving functional safety in automated environments are just some of the practical motion control considerations HEIDENHAIN engineers discuss in this eBook. And maybe even most importantly are the strategies and equipment discussed that can be used to prevent some motion control challenges in the first place.
Download HEIDENHAIN's free eBook, "Strategies for Solving Today's Biggest Motion Control Challenges."