Explosion-proof Rotary Encoder from Leine & Linde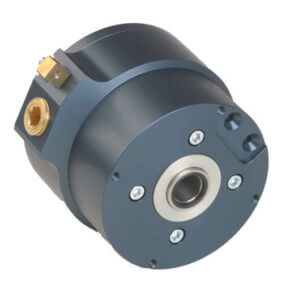 In order to provide a sturdy, explosion-proof rotary encoder Leine & Linde introduces its series model 841. ATEX and IECE-x approved, this encoder is primarily meant for motor velocity feedback and positioning of heavy motor operations or generators.
Already in use in such industries as oil and engine applications, the Leine & Linde 841 rotary encoder can handle a large temperature range. It is an optical encoder intended for measurement and control of angular speed and position. The flameproof enclosure consists of aluminum flange, housing and back cover and a stainless steel hollow shaft.
The encoder is supported directly on a motor shaft or a shaft extension, and exists in two versions for 12 or 16 mm diameter shafts. The hollow shaft is fixed by tightening a special screw in the shaft center. The encoder housing is prevented from rotation by a torque arm with two-rod ends. The torque arm can be connected to either the front or back in a variety of positions.
The electrical outputs of the Leine & Linde 841 encoders are all closed circuit protected both to OV and to supply voltage. The supply lines are protected against reverse polarity. Up to six output signals plus an optional diagnostic signal are delivered from the encoder via a certified cable gland through the housing.
The 841 series encoders are certified according to Ex d for use in Category II, Zone 1 (gas), and Zone 21 (dust). They can be delivered with Leine & Linde's Advanced Diagnostic System (ADS), a built-in system for troubleshooting and preventative maintenance in the process industry.