North American Manufacturers European Technology Tour
September 5, 2019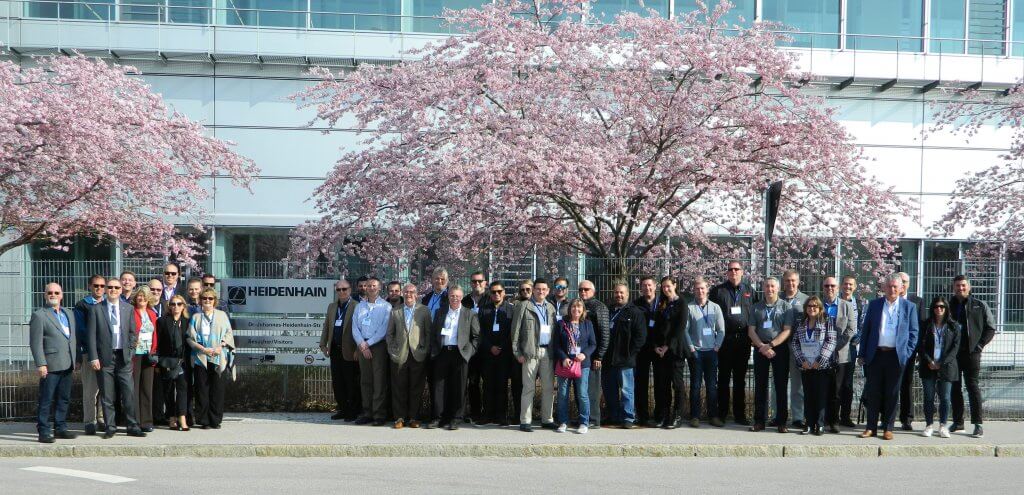 Looking for new technologies or ways to improve their own businesses, 40 manufacturing executives from 18 North American companies traveled to Europe in April for the 2019 International Technology Tour. This "Munich to Milan" five-city tour chose HEIDENHAIN in Traunreut, Germany (near Munich) as its first stop of the tour where they were welcomed by management and hosted for a day of insights and activities.
Highlights of the HEIDENHAIN tour included introductory presentations as well as visits to the TNC Training area to watch the five-axis TNC 640 control in action. It also included a stop to see HEIDENHAIN's large Apprenticeship program at work and to tour of one of the component manufacturing areas.
"HEIDENHAIN was a memorable experience. Learning about the history of the company, its humble beginnings and evolving to a force in the controls industry was an eye opener for myself. The 'campus' that we toured was impressive from a perspective of cleanliness, organization and commitment to progress," said Ted Rosts, President of Densmore Tool & Die Works Ltd. in St. Catherines, Ontario.
Even the remaining four other company stops had HEIDENHAIN in action. This included stops at GROB Systems (near Munich), BIG KAISER (near Zurich, Switzerland), Blaser Swisslube (near Zurich) and Speroni SPA (near Milan, Italy). The trip was organized by the National Tooling and Machining Association (NTMA) and Canadian Tooling & Machining Association (CTMA), with support from management of the five visited companies.
Day One: HEIDENHAIN
On Day One, the group's tour bus departed from a Munich hotel for an exciting adventure at HEIDENHAIN's world headquarters. Upon arrival, guests were greeted by HEIDENHAIN senior management and given a company history and behind-the-scenes overview of the company by HEIDENHAIN's Dr. Jan Braasch, which began by Wilhelm Heidenhain in 1889 in Berlin with a metal etching products company. Then in 1929, when his son Dr. Johannes Heidenhain became his partner, the two grew the company that offers the many types of high precision motion control products available today, with offices worldwide.
The Day One presentation also included an explanation of HEIDENHAIN's role in redefining the meter in 1960 to the worldwide standard that is used today. It also provided a sneak peek into HEIDENHAIN's 2002 development of a state-of-the-art Mastering Building built deep into the ground. This impressive clean room maintains an exact temperature at all times and allows for measurements and developments with no vibration. The U.S. National Institute of Standards and Technology (NIST) has since replicated such a building in Washington, D.C.
HEIDENHAIN's core product lines in Traunreut were discussed, consisting of linear scales, angle and rotary encoders and CNC controls. It was mentioned that over 6,000 employees worldwide now support these lines that offer motion control feedback solutions for various industries, including machine tool, semiconductor, electronics assembly and test, metrology, automation, medical, energy, biotechnology and other global markets.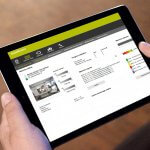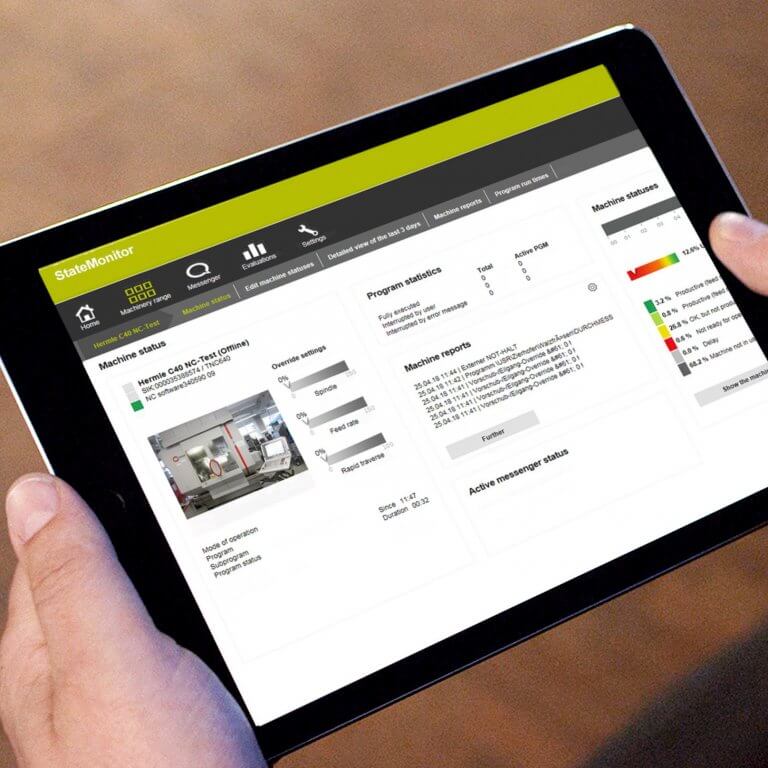 5-Axis Machining
With over 40 North American executives in attendance, HEIDENHAIN's Head of Marketing and Product Management for Controls Dr. Jens Kummetz then shared information about "How to Improve Machine Shops with 5-Axis Machining". HEIDENHAIN has been manufacturing highly accurate controls since the early 1980s with the conviction that these high-quality machines can handle high-end machining better than anyone in the world.
"HEIDENHAIN's controls allow machining maximization by minimizing the machine time necessary, even down to a lot size of one," said Dr. Kummetz. He went on to highlight the many unique and beneficial features offered in the HEIDENHAIN TNC control including an operator-friendly HMI, the ability to do Virtual Machining in test mode and 3D Tool Comp to allow for tool compensation. He also noted the known accuracy limits of machine tools as they relate to static, dynamic and thermal issues, and how HEIDENHAIN has TNC control options to combat each.
Lastly, Dr. Kummetz addressed how HEIDENHAIN supports Connected Machining and Industry 4.0 with strong products now being found in applications all over the world. Of particular note was HEIDENHAIN's State Monitor, a CNC control tool that includes a monitor and software that allows users to collect machine data from multiple assigned remote locations in real-time and conduct intelligent and useful data analysis. Machines of all makes and models can be connected utilizing MTConnect, Modbus or OPC UA protocols with this system.
TNC Training Center
With that, the tour group moved on the HEIDENHAIN'S TNC Training Center to visit three stations in action. Machine tools equipped with the TNC 640 were at each and included live demonstrations of 1) skiving, 2) batch process management and 3) Connected Machining.
The 1) skiving demonstration included a HEIDENHAIN Applications Engineer who discussed how the TNC 640 control can manipulate a machine to handle gear machining in a single set up, which is now a current shop trend. The machining of gears is still regarded by many machine tool operators as a true challenge and a realm reserved exclusively for specialists. Three new cycles of the HEIDENHAIN TNC 640 for the skiving and hobbing of straight, helical and herringbone gear teeth are now altering this perception. These cycles enable the simple and economical machining of high-quality external and internal gears completely within a single setup. The software allows the two machining operations to be performed in both milling and turning mode.
The 2) machine demonstration included the making of three precise workpieces utilizing the Batch Process Manager tool programs in the TNC. This function enables precise planning and execution of upcoming jobs right on the control, of particular importance for unattended shifts. This includes evaluation of each job such as if/when manual intervention is required and how long a machine will be in use.
And the 3) demonstration enclosed in its own room showcased Connected Machining and Industry 4.0 in action. Here, a machine tool equipped with a TNC 640, HEIDENHAIN's State Monitor hardware/software and utilizing MT Connect showed how seven machines (most remote) were being monitored and analyzed simultaneously and shown on a single screen. This system allows the operator at the TNC control to become the director of the process chain.
Apprenticeship Program
Following lunch, the group toured the building that houses HEIDENHAIN's Apprenticeship program. With approximately 300 teenage students in the programs on site, 15 staff are on hand to manage it. Dedicated to furthering quality manufacturing, this long-standing HEIDENHAIN program offers interested students an opportunity to choose from a selection of designated programs that all begin with six months of theory courses. Two to four years of practical work at HEIDENHAIN typically follow where the students are paid for their time.
"The investment in the younger generation through your Apprenticeship Program was very unique and one practice we really need to adopt here in North America," said Dino Bavetta, owner of Ramstar in Oldcastle, Ontario.
The tour guide explained how the company works hard to recruit area young people in to manufacturing, and shared that the many successes that have and continue to come from it.
HEIDENHAIN Mechanical Production
The last stop of the HEIDENHAIN tour included a walk through one of the large Mechanical Production buildings. Here, the group watched experienced employees handle long production lines producing a large variety of component parts from scale end caps to long linear extrusions, to name only two.
The combination of trained staff and automated systems was shown, and questions were answered as they arose. "The tour of the plant and the presentation were done really well," said Bavetta. "The history is amazing with the building structure and what goes into making such precise measuring instruments".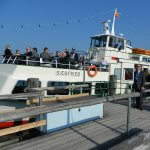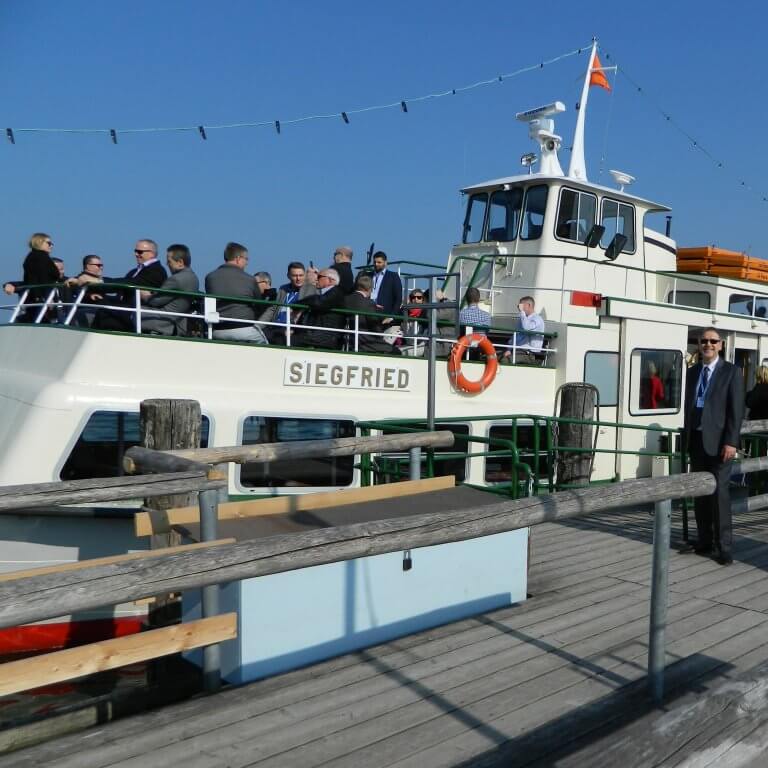 Following the tour, all participants were bussed to Lake Chiemsee to board a private boat charter to Frauinsel (translates to Women's Island) where dinner was provided. "Of course, the trip and meal at Chiemsee was another way of appreciating the surrounding area and culture in which HEIDENHAIN works and operates," added Rosts.
The end of Day One brought all back to Munich hotel to rest and ready for remaining company day visits.
"We discovered something new every day. Not only about the products and expertise offered by our National Associate members, but also how manufacturers around the world approach our common challenges. They gave us new insight into training, improving workflows and integrating automation, for example," said James Mayer, NTMA's National Accounts Manager.
Day Two: GROB Systems
The next stop was GROB Systems world headquarters in Mindleheim, Germany, and is the largest machine tool manufacturing plant in Europe. GROB is third-generation, family-owned company building horizontal and universal machining centers and automation systems.
At the introductory meeting, management explained GROB was founded in Munich in 1926 and now has five large production plants all around the world, including one in North America in Bluffington, OH. They mentioned that their main customer base has been automotive and aerospace OEMs, as well as job shops who make all types of parts.
The tour, which covered only a portion of the enormous campus, highlighted the importance of vertical integration of manufacturing processes – including all major components – to control final product quality. The G-Series machine tools were in operation in their technical center, showing how retractable a spindle and swivel-rotary table improve access to part features and enable upside-down machining.
During the tour of the technical center, visitors were able to watch a GROB G550 machine tool in action with a HEIDENHAIN TNC 640 control.
Following the demonstration, the use of various controls on these machine tools was discussed. A couple of those in the demonstration area who have used a variety of controls mentioned that they prefer HEIDENHAIN controls because of their intuitive nature. "We have both HEIDENHAIN and SIEMENS at our company and our operators like the HEIDENHAIN best because they are easier to use," explained Bonnie Kuhn, Vice President of Kuhn Tool & Die in Meadville, PA.
It is also important to note that GROB has begun production of their first five-axis universal machine in the U.S. at their Ohio location. Scheduled to be available in late 2019, the HEIDENHAIN TNC 640 is expected to be its standard accompanying control.
The GROB tour also included information about their Apprenticeship program. Also, strong supporters of youth entering manufacturing, GROB employs approximately 6% of their staff as apprentices at all five of their worldwide locations. Here, apprentices complete a three- to five-year stint. At the Ohio location, students graduate with an Associate's degree and can go on to college for a bachelor's degree paid by GROB.
Day Three: BIG KAISER
The third tour stop was to BIG KAISER, near Zurich, to learn about the Swiss obsession with precision manufacturing. A hands-on demonstration of the technical center showed the benefits of digitally adjusted tools for boring applications plus the smartphone/table app that communicates with connected tools and stores tool data. A HEIDENHAIN iTNC530 was used during the demonstration.
A tour highlight was the "smart factory" cell, showing a full integration of material storage, robot loading and production scheduling in one machining cell, with full integrated tool management and presetting from Speroni.
Day Four: Blaser Swisslube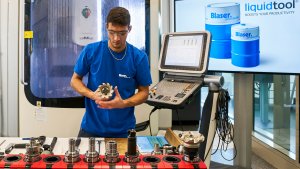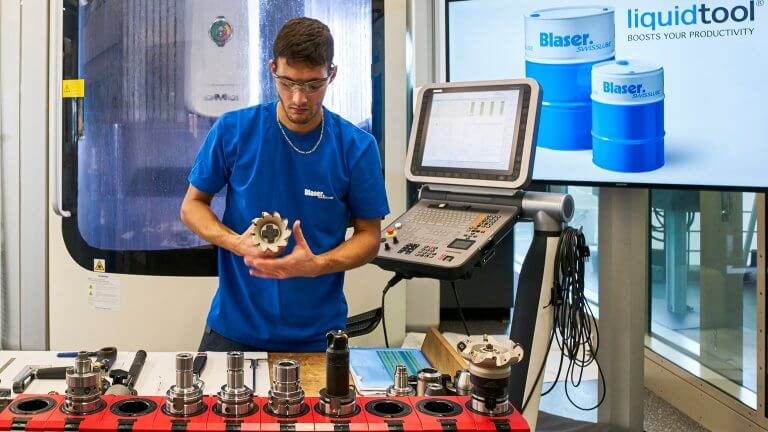 At Blaser Swisslube, guests toured the laboratories and learned about the science behind metalworking fluids and the many factors involved in developing cutting and grinding oils, as well as emulsions, starting even with local water quality.
In their technology center, the group was shown live demonstrations using various machines, materials and tools to show the impact of Blaser cutting fluids – the "Liquid Tool" – on the overall process. The controls in their demo room were all HEIDENHAIN TNCs. This particular demonstration utilized a GROB machine tool and a HEIDENHAIN TNC in place at Blaser.
It was explained that Blaser Swisslube's intensive product testing and trials are conducted with the goal of improving part finish, tool life, machine uptime and quality of the shop environment for both machines and people. A GROB G550 machine tool equipped with a HEIDENHAIN TNC 640 was recently ordered for the R&D center.
Day Five: Speroni SPA
The final stop of the tour was in Milan, Italy, where the group visited Speroni SPA, a manufacturer of tool management systems offered by BIG KAISER in North America. Before and during the facility tour, the Speroni team explained how offline tool measurement increases spindle uptime, extends tool life and improves part quality.
Regarding optimal tool management, a demonstration was given about Speroni's INTELLIGO software solution that delivers Industry 4.0 connectivity, sharing tool data between the presetter and machines, CAM systems, and tool storage in a central knowledge database. The demonstration was done on a machine tool using a TNC 640 control, and all the presetters were equipped with HEIDENHAIN linear encoders.
In between all five factory visits, the group enjoyed Bavarian, Swiss and Italian hospitality, sightseeing and networking with new friends from across the U.S. and Canada.
"It was an absolute privilege to visit and experience five world class companies as a means of understanding the evolution of their technology, history, training, values and culture," said Robert Cattle, CTMA Executive Director. "This was an incredible opportunity to be with a group of business owners from all across North America who have an unparalleled passion for precision manufacturing at a world class level."
Share: