EtherNet/IP™ Encoders Rise to Oil & Gas Challenges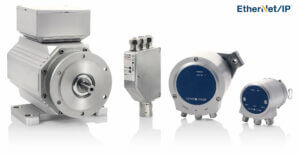 Schaumburg, IL  (April 2018) – EtherNet/IP™ encoders from Leine & Linde are available for oil and gas equipment applications, as they are certified for use in ATEX/IECEx zone 1/21 — areas where a high level of protection is needed such as in atmospheres with gas and dust. These encoders will be on exhibit at the upcoming Offshore Technology Conference (OTC) held April 30 – May 3 in Houston, Texas (Booth #1705).
Useful in all hazardous or explosive environments, the Leine & Linde singleturn rotary Ex 647 encoder and the multiturn Ex 648 are both available with solid shaft or hollow-shaft mounting to fit well into the oil and gas industry applications. The reliability of Leine & Linde encoders is well established and appreciated, especially among the most physically demanding industry applications.
Leine & Linde is a pre-qualified supplier for oil and gas industries, listed on the Achilles FPAL and JQS supplier lists. EtherNet/IP™ is one of the most widespread communication protocols for industry solutions where accuracy, flexibility, and high-speed performance are vital factors. EtherNet/IP is a trademark of ODVA, Inc.
Leine & Linde's EtherNet/IP™ encoder functionality:
Encoder device profile 0x22
Cycle time can be as low as 1 ms
Supports up to 64-bit data
Ready-to-use assemblies
Position
Scaling: free, binary and non-binary
Preset functionality
Speed limits: low and high
Acceleration limits: low and high
Position limits: low and high
Boot loader for firmware upgrade and IP search included
More information on these encoders is available online.
Leine & Linde is based in Sweden with exclusive North American distribution through HEIDENHAIN CORPORATION in Schaumburg, IL. Leine & Linde is well known for offering high quality, heavy duty encoders of both the incremental and absolute type, are noted for their product robustness and design to cope with the harshest of environments, such as those with high vibration, dirt and cold temperatures. These heavy, severe duty encoders are suited for drive and measurement applications and are often found in industries such as pulp and paper, forest and wood processing, agriculture, aggregate and mining equipment.
More information is available from North American Product Specialist Jonathan Dougherty at 847-519-4218.