DID YOU KNOW… – HEIDENHAIN MICROLUTION
DID YOU KNOW…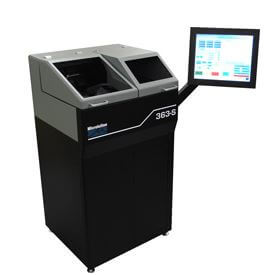 …that HEIDENHAIN linear scales are an integral part of a unique micro-machine operation borne of two University of Illinois researchers? While they introduced the concept of "small machines for small parts" at the IMTS Emerging Technologies pavilion in 2004, researchers Andy Phillip and Andrew Honegger took that idea and incorporated a company in 2005 built on that premise and called it Microlution Inc., Chicago, IL. This company has shown steady growth every year, even during difficult economic times.
"Microlution fills a special niche offering the ability to make very small parts, very fast and accurately, at a fraction of the cost of a large CNC," said Phillip, Microlution president. "The use of small machines for small parts offers users a productivity increase typically ranging anywhere from 20% to 3 times. We are currently seeing strong interest in these compact micro-machines by those in the biomedical field, job shops and researchers." Phillip explained that common parts currently made in their small machine tools are orthopedic implant parts such as bone plates and spine components, and small surgical devices and parts.
With these small parts comes the need for very high accuracy and very tight tolerances. "Our original prototype micro-machines had been using position feedback scales with a 20 micron grating period but as we evolved and incorporated, it became clear that we needed smaller grating and better resolution so we looked to HEIDENHAIN," said Phillip. "And to be honest, people recognize HEIDENHAIN scales as high quality and reliable, so it helped us as a new company to provide this positive touchstone to our potential customers as we shared information about our unique product."
At this time, Microlution offers two core products:  the Microlution 363 – a 3-axis micro-milling machine offering a 2 ½ inch working envelope (2 foot square machine footprint) and the Microlution 5100 – a 5-axis micro-milling machine offering a 4 inch working envelope (there is a 3-axis version of this with an 8 inch envelope). These machines offer 2 micron accuracies and sub-micron repeatability. They are built using high rpm spindles, linear motors throughout and are based on granite substructures.''
Both HEIDENHAIN sealed and exposed linear scales are in use at Microlution. Sealed linear encoders from HEIDENHAIN are protected from dust, chips and splash fluids and are ideal for operation on machine tools. The beneficial dynamic behavior of these linear encoders, their highly reliable traversing speed, and their acceleration in the direction of measurement predestine them for use on highly dynamic conventional axes as well as on direct drives. HEIDENHAIN's exposed linear encoders operate with no mechanical contact between the scanning head and the scale or scale tape. Typical areas of application for these encoders include measuring machines, comparators and other precision devices in linear metrology, as well as within production and measuring equipment.
The performance of the HEIDENHAIN products is great," said Phillip. "Their specs are always conservative so our testing always goes smoothly. And even though I know we're not their biggest customer, we feel like they treat us as one."