Rotary encoders help power exoskeletons for rehabilitation
Did you know that HEIDENHAIN's RENCO rotary encoders are critical components found in some programmable powered exoskeletons found in the human rehabilitation field today?
Exoskeletons are pieces of equipment that some people with varying levels of paralysis wear to assist them in movement.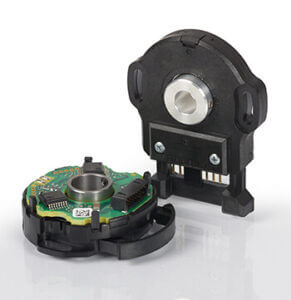 Used to retrain proper movement patterns, improve strength and bone density, as well as facilitate intensive step dosage, exoskeletons utilizing HEIDENHAIN's RENCO encoders are currently helping people paralyzed from the waist down, stand up and walk again. Built using a series of motors and sensors which move the wearer's legs, these impressive exoskeletons are helpful as a rehabilitation tool for people with lower extremity weakness, be it from physical injury, stroke or disease. There are some size requirements for the user, such as height and weight, as well as requirements for flexibility such the ability to manage some forearm control to operate these devices.
The particular RENCO component typically found in some of these "walking" exoskeletons is the RCML 15 rotary encoder which provide motion and speed feedback in the motors operating the knee and elbow joints within the exoskeleton. Using the RCML 15 encoders, the exoskeleton system can position these joints extremely accurately and with consistent repeatability. These aspects are crucial to the machines as they are interfaced directly to a person and need this level of quality in order to ensure the safety of the user.
The RENCO RCML 15 rotary encoders are characterized by their low profile, which is perfect for designs where space is critical. They combine brushless motor commutation pulses and incremental position feedback, which reduces the cost while improving the performance and reliability of the brushless motor/encoder package.