A Prime Example of Our "Customer First. Always." Pledge: HEIDENHAIN TV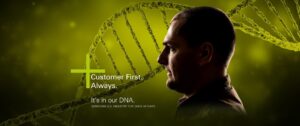 Dr. Johannes Heidenhain's early focus on innovation, quality and customer satisfaction was the cornerstone of its growing success and remains the keystone of its ongoing "Customer First" principle. This principle is one that we at HEIDENHAIN want to continue to bring attention to in our days ahead which is why on January 1 of this year, accelerated our Customer First efforts. At HEIDENHAIN, we've always known that if it wasn't for our customers, the company would not exist.
This statement embodies many things to HEIDENHAIN. As many already know, "Customer First" is the foundation of HEIDENHAIN's well-established research and development efforts. We know that listening requires focus and, understanding requires a concentrated effort. "Customer First" has taken us to a whole new level in providing measurement and motion control enabling technology since our beginning in 1889.
One example of the HEIDENHAIN Customer First-type programs includes HEIDENHAIN's Touch Probe Rapid Repair Program. Another is HEIDENHAIN TV on YouTube. From jet planes to laboratory equipment, today's life-changing technologies require ultimate accuracy, and HEIDENHAIN TV continues to grow as a 24/7 public resource about the latest advances in high accuracy precision measurement and motion control equipment.
This online source is positioned to serve customers with information on their schedule, as they need it. Currently over 100 videos are posted on HEIDENHAIN TV, with video categories including HEIDENHAIN basics, machining accuracy, TNC controls, webinars/tutorials, and mounting, among others.
Serving the worldwide markets, HEIDENHAIN TV videos are available in many languages, including English, German and Chinese. Users can subscribe to the service to receive the latest videos as they are added, as well as use a search function to find what is most applicable to their needs.