An Ironless Line of Linear Motors Available from ETEL
January 20, 2001
Now available to the North American market through HEIDENHAIN Corporation are ETEL's popular line of ironless high-speed linear motors, the ILF and the ILM series. Originally built for use in the semiconductor and electronics industry, this line of ironless linear motors adds to the wide range of motors and solutions that ETEL provides to those industries and beyond.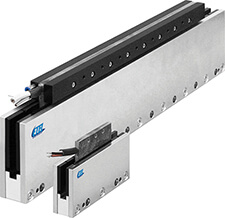 Of particular importance to the semiconductor and electronics industries, the ILF and ILM series utilizes an iron-free coil design which guarantees zero-attraction force between the carriage and the magnetic way ensuring a perfectly smooth motion along its length of travel with absolutely no force ripple. The ILF is a smaller-sized motor perfectly suited for very high dynamic and low-moving mass applications, while the ILM is a more powerful version of the ILF and has an option to be air-cooled to increase its continuous force output. ETEL's ironless motors are optimal for every process in the semiconductor industry from lithography inspection, dicing, bonding, and PCB manufacturing, along with any of the testing processes.  Outside of that, they are also ideal for scanning applications and other areas where high speed stability is required. Their very low mass also makes these motors very well suited for high dynamic applications.
Each of ETEL's ironless motors come in a variety of lengths and heights which offer different degrees of forces and also share the same profile so that one is interchangeable with the other. They are also able to reach speeds of up to 20 m/s and reach a peak force of up to 2,500 N.
The ILM and ILF series are designed specifically for direct drive applications and offer the following advantages over transmission-based devices:
Fewer parts requiring lower overall costs
Stable performance along the machine's lifetime due to zero maintenance being required
No backlash, allowing for better accuracy and repeatability
Smooth, precise, and efficient motions
Compact design
Share: