ACU-RITE's new MILLPWR G2 control is "Powerful Easy"
CONTACT:
Kathleen Stoneski, Public Relations Manager, North America, 877-565-9151
SCHAUMBURG, IL (October 2013) –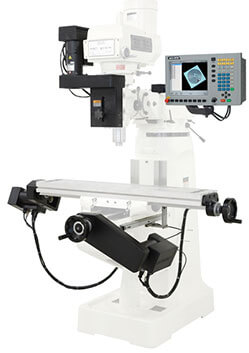 ACU-RITE is proud to introduce the long-awaited MILLPWR G2 CNC control for milling machines.  Being noted as "Powerful Easy", this all new control promises to be the simplest and easiest-to-operate CNC for vertical knee mills on the market today, even more powerful than its well known MILLPWR predecessor.
Extremely intuitive, the programming on this MILLPWR G2 control is done via easy-to-understand plain language user prompts that are accompanied by 3-D graphic "Help" forms that clearly describe each cycle step, creating an instinctive interface that maximizes efficiency and increases production.  Using simplified navigation that eliminates multiple menu screens, the MILLPWR G2 has continued the spirit of the original MILLPWR while improving on its wildly popular interface and functionality by maintaining the same programming language and incorporating an all new "Powerful Easy" navigation system.
Additionally, the G2 adds new standard features like USB, networking accessibility, solid model graphics and new large 12.1″ high resolution display (1024 x 768). And built on the proven HEIDENHAIN NC Kernel platform, the MILLPWR G2 boasts a 1GHz processor with 2.5 GB of memory.
Other enhancements include expanded tool and datum offsets for the more complicated jobs. For more information, please go to www.acu-rite.com.
ACU-RITE products are represented and distributed through parent company HEIDENHAIN Corporation based in Schaumburg, IL. ACU-RITE products include digital readouts, CNC controls and precision glass scale, all manufactured in an ISO 9001 certified facility in Jamestown, NY.