ACU-RITE to exhibit at the PRI 2023 trade show
PRI 2023 | December 7 – 9 | Booth #5267
Schaumburg, IL (November 2023) – ACU-RITE, a member of the HEIDENHAIN family of brands, announces its participation at the PRI 2023 Trade Show, taking place December 7-9 in Indianapolis, Indiana. At booth #5267, ACU-RITE will be showcasing innovations in precision measurement products all designed with the machinist in mind.
The PRI Trade Show as the world's largest gathering of motorsports professionals, unites 1,100 exhibiting companies with an impressive attendance of 40,000 from all 50 states and 70 countries.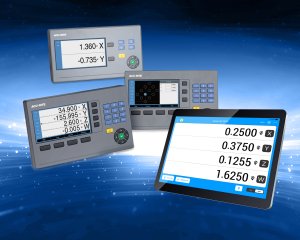 Machinists know the true value of precision and reliability when it comes to their tools and equipment. ACU-RITE understands this intricacy and is committed to providing machinists with tools that are not only accurate but also elevate the entire machining process.
Visitors are welcome to test drive the complete line of ACU-RITE's precision measurement products and receive a free demo from our specialists, including:
There's more! Don't miss your chance to win big with our exclusive show raffle. Simply participate in a droPWR demo with our specialists and drop your business card for a chance at walking away with a YETI Backpack Cooler packed full of ACU-RITE branded merchandise.
In addition to our show raffle, we will be offering PRI 2023 show specials:
20% discount of the purchase of your next DRO203 System Kit
Free accessories with a purchase of a 3-Axis MILLPWR G2
Free download of the droPWR app
Visit booth #5267 and experience firsthand the advancements ACU-RITE brings to the world of motorsports. Whether you're a seasoned professional or new to the industry, the PRI Show promises a wealth of knowledge, opportunities and advancements in the world of racing. Join ACU-RITE this December in Indianapolis and see for yourself!
High-resolution images for the following products can be found here: MILLPWRG2, droPWR, DRO100, DRO200, DRO300, TURNPWR.
Product contact:
John Parker, HEIDENHAIN Business Unit Manager – ACU-RITE
jparker@heidenhain.com or 716-456-3150
Media contact:
Sarah Moreau, HEIDENHAIN Marketing Manager
smoreau@heidenhain.com or 847-519-4212