Top Trends That Will Affect Your 5-Axis Machining Next Year
Updated March 28, 2022
Five-axis machining is an increasingly prevalent capability in shops large and small. Still, many are just scratching the surface of what's possible. Technology innovations and process improvements are a boon for ease of use, and while growth in manufacturing overall is slow, companies are on the hunt for new ways to boost throughput and profit. There's no silver bullet for instant 5-axis machining success, but staying on top of the latest developments can help pave a solid path. From CNC control breakthroughs to innovative cutting techniques, let's explore trends set to make an impact on your 5-axis machining operations.
Touchscreen controls
The latest in touchscreen technology isn't only for smartphones and tablets. CNC control manufacturers are integrating this functionality to help make programming more intuitive and faster.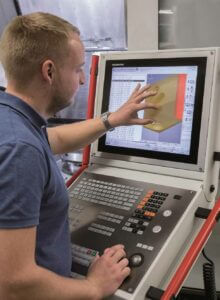 Touchscreen functionality on the TNC 620 control from HEIDENHAIN allows the operator to navigate quickly and intuitively through long lists, programs, tables and other content by what is known as kinetic scrolling. A slow, brief swiping movement results in scrolling over a few lines; a longer and quick movement leads to dynamic scrolling over many lines.
The ability to look at and manipulate a 3D model of a part using the same actions we're so comfortable with on our smart phones is invaluable, let alone right at the machine. It's also a testament to the pure computing power of modern controls. Not only can they display 3D, but their millisecond-level processing times limits lag and dwell during cutting.
"Live" training
The touchscreen isn't the only user-friendly aspect of today's CNC controls. Guided, text and/or graphical steps can guide inexperienced operators through some of the more common cycles. This hands-on training option is a major development when trial-by-fire has traditionally been the approach. Not only is this safer and faster training, but it makes for more productive time for new or different employees and machines.
Easier programming options for complex cuts
Leading CNC control manufacturers continue to offer functions that make complex programming tasks—like contours or holes on inclined surfaces—much easier for less experienced operators. The PLANE function in a HEIDENHAIN TNC control, for example, makes it easy to define a tilted working plane; you can specify tilted working planes in seven different ways, depending on the information on the workpiece drawing. Clearly arranged support graphics assist the operator during input.
What's more, HEIDENHAIN controls feature conversational programming—which makes it quick and easy for operators to generate programs at the machine without complex math and tedious programming tasks. HEIDENHAIN's conversational programming features include syntax highlighting, color-structured programs and help graphics.
Real-time, remote data
"Smart" 5-axis machining capabilities allow machines to easily and efficiently feed data to enterprise systems, machine monitoring programs and more—and can offer manufacturers a big leg up. The unprecedented visibility and analysis that these technologies allow is a key factor in increasing competitiveness and profitability.
The type of connectivity something like our StateMonitor system enables makes predictive maintenance much easier. It shines light on any bottlenecks, where a machine may be idle waiting for a program or inefficiencies such as a spindle spinning, but not actually performing a cut. Coordinated messages can be sent to operators and/or alerts can be setup for certain conditions. Data really opens peoples' eyes.
Connected machining
HEIDENHAIN's Connected Machining system (a component of the TNC control) ensures that all production processes are networked—from design to final delivery. Connected Machining functionalities include tool management; batch processing/scheduling; machine monitoring (real-time machine status dashboards, mobile and desktop alerts, etc.); quality assurance; historic data collection/reporting; ERP integration; web browsing capabilities and more.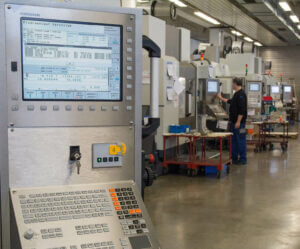 In addition to "smart" machines, improving speed is an obvious way shops can stay competitive—and high-speed cutting (HSC) techniques help in this regard. Speed can be achieved easily enough, but maintaining extreme precision and quality while slashing cycle times requires sophisticated machine tool technology with top-of-the-line CNC controls.
Greater automation demands and functional safety challenges

Manufacturing environments increasingly demand that humans work alongside robots—in a safe and efficient way. To this end, Functional Safety is a hot topic, with countries in the European Union already requiring it in many applications, and regulations being considered in the United States and Asia.
HEIDENHAIN works with machine tool manufacturers to deliver a range of pre-approved, safety-related position measuring systems designed to be used with control category SIL 3, PL e, category 4. Thanks to extremely precise positioning and motion control solutions, mechanical engineers rely on HEIDENHAIN for a variety of high-stakes automation design needs
In the field of metalworking, HEIDENHAIN controls offer options that help enable safer automation—including the Dynamic Collision Monitoring (DCM) function that senses impending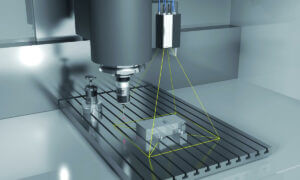 collisions and stops them in their tracks.
Early AI
Increasingly complex geometries and tough-to-machine materials continue to pose challenges in 5-axis machining but with every passing year, machine, tooling, and software manufacturers look for processes to help ease the burden.
Trochoidal milling is an example of this. This technique uses a constant circular interpolation movement for the more efficient removal of material in scallops and pockets. Trochoidal milling helps decrease wear and tear on machines and tooling, but alone provides little advantage in terms of speed. When paired with the adaptive feed control (AFC) option on HEIDENHAIN TNC controls, however, users can expect substantial savings in cycle time. AFC works by significantly increasing the feed rate during the air cuts of the circular milling process, but reducing it as soon as the cutter meets the material.
Yes, capabilities like adaptive feeds and "look ahead" capabilities like contour deviation monitoring or vibration mitigation are AI, and very practical forms at that.
Interface advancements

The information that can be gathered and transmitted from a 5-axis machine tools' operation is more powerful than ever; the control loop has officially been closed. When we talk about our bidirectional serial interface, EnDat, we think it and others play a big role in the future of machining. Here are just a few of the capabilities and possibilities advanced interfaces can unlock:
Integration of complex sensors and sensor boxes
Multi-dimensional measurement technology
System information for automatic configuration
Enhanced diagnostic capabilities
Storage of operating status data
Functional safety
Touch probe verification

More and more shops are turning to touch probes as a way of automating and expediting one of the more tedious tasks. Proper and efficient verification is especially important with the type of complex parts that come off 5-axis machines. Adding a probe to a tool carousel has proven a cost-effective way to keep spindles spinning and eliminate potential for human error. The efficiencies really add up over time and make for a quick return on investment.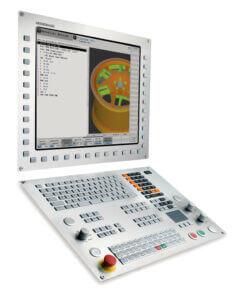 Evolving industry needs
Manufacturing trends in specific industries are driving the development of application-specific technologies and processes.
The aerospace industry, for example, is frequently in the spotlight due to increasingly stringent demands: consistently high surface quality, reliable compliance with tight tolerances, high machining speeds, and the documentation and validation of complex processes accompanying production runs, to name a few.
In the automotive industry, processes like drop forging and extrusion make transmission components tougher and more resistant to be able to withstand high dynamic loads. This type of hard milling can be challenging to do quickly (another demand in the automotive industry), while maintaining necessary surface finishes.
In both of these examples, sophisticated control technology—including HEIDENHAIN's—is a must.
When it comes to industries in which gear-making is prevalent, another HEIDENHAIN control feature can help. Cycle 880 on the latest TNC control achieves more efficient gear-hobbing of external cylindrical and helical teeth by synchronizing the tool and lathe spindles; it positions the rotary axis to the required tilting position and performs the infeed movements to the workpiece in the radial direction, and the milling movements in the axial direction.
HEIDENHAIN works with several leading machine manufacturers to deliver industry-leading 5-axis machining technologies to the market. Shops also have access to a variety of products—from CNC controls to encoders—for retrofitting needs. To learn more about the solutions HEIDENHAIN has to offer, contact us here.