TS 760
High-accuracy workpiece touchprobe
High probing accuracy of ±1 µm (with the T434 standard stylus)
High probing reproducibility: 2 σ ≤ 0.25 µm
Signal transmission: radio and infrared (at same time as tool touch probe)
Minimal probing forces
Interfaces: HTL or EnDat 2.2 (via transceiver)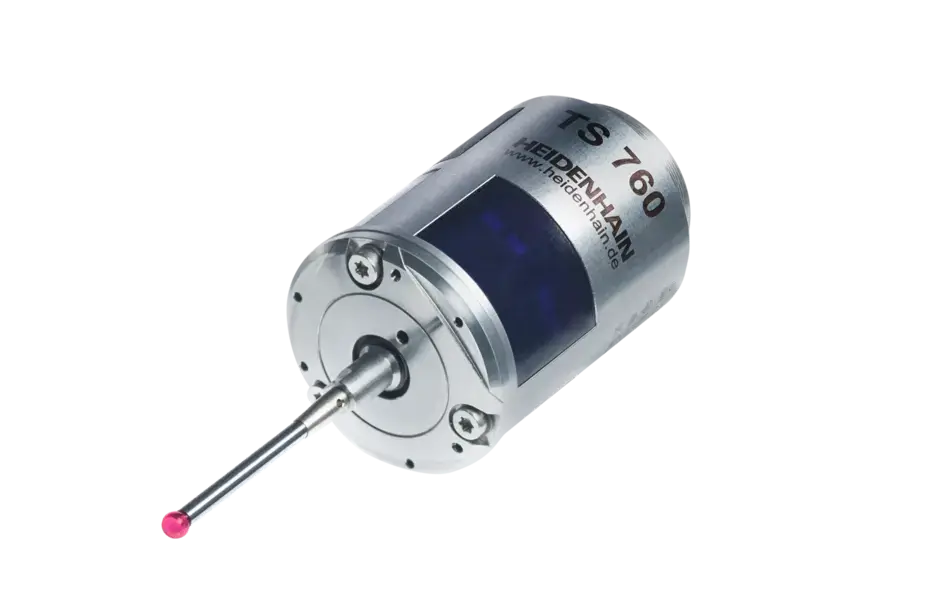 Enhanced performance
Because the very first scanning point is a valid measurement, you can reduce repeated probing and non-productive time. High probing reproducibility, even at high scanning speeds, also reduces non-productive time.
Reliable workpiece cleaning
Although drops of liquid on the workpiece have no effect on measurement, residual chips can be a problem. That's why this touch probe features jets for cleaning the workpiece at a pressure of up to 60 bar. The machine must be equipped accordingly.
Convenient TNC operation
Touch probes from HEIDENHAIN, along with the SE 661 transceiver (EnDat interface), are fast and easy to configure on the screen of the TNC, where you can check the infrared signal strength, scan radio channels or check the battery charge.
Minimal effects on the workpiece
Probing forces are minimized by high-performance force analysis in the sensor, and the workpiece is maximally protected through optimal orientation of the sensor without lateral motion of the stylus.