TS 640 and TS 642
Wireless workpiece touch probes for machines with automatic tool changers
High probing accuracy of down to ±5 µm (with the T404 standard stylus)
High probing repeatability for very high measurement quality: down to 2 σ ≤ 1 µm
Infrared signal transmission
Interface: HTL
Protection rating: IP68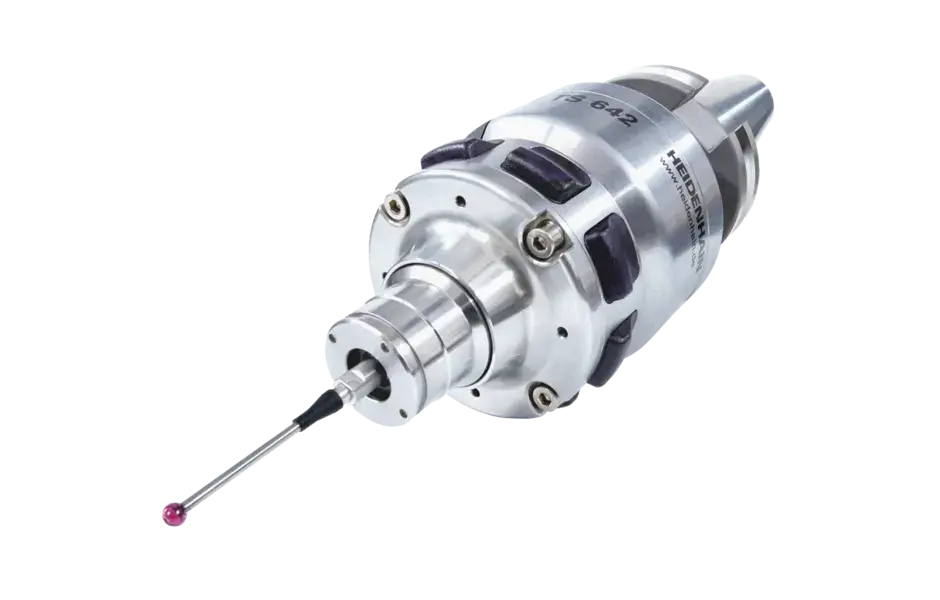 Infrared transmission
The reliable infrared signal transmission of these touch probes reduces cabling in hard-to-access machines. Infrared transmission is ideal for compact machines.
Long battery life
The smart standby function of the HEIDENHAIN workpiece touch probes enables a battery life of approx. 800 hours, thereby reducing downtime from frequent battery changes. Batteries can be changed quickly and without tools.
High stylus variety
HEIDENHAIN offers the right stylus for any application, with a variety of ball diameters and lengths. Changing the styli couldn't be easier: all of them are fastened to the TS workpiece touch probes via an M3 thread.
Long-lasting accuracy
Even after five million probing cycles, the HEIDENHAIN workpiece touch probes are still highly accurate: with a probing repeatability of down to 2 σ ≤ 1 µm at a probing speed of 3 m/min, these touch probes deliver reliable measurements even after prolonged use.