TT 160 and TT 460
Tool touch probes for efficient measurement and tool inspection
High repeatability for very high measurement quality
Choice between cable-bound vs. radio and infrared signal transmission
Interfaces: HTL, or EnDat 2.2 via SE
Protection rating: IP68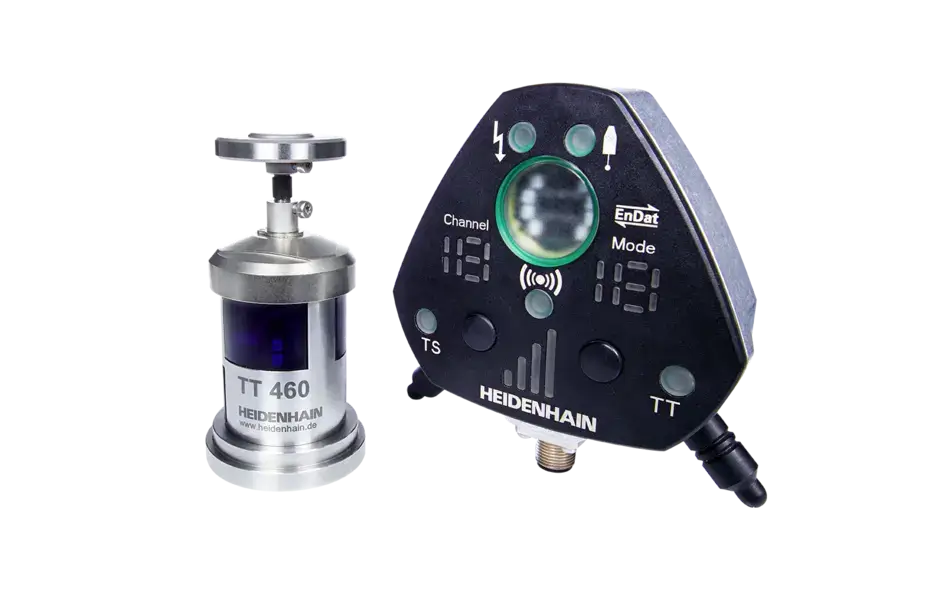 Cableless signals with the TT 460
The reliable radio and infrared signal transmission of the TT 460 touch probe reduces cabling in hard-to-access machines. This combined signal transmission capability merges the benefits of infrared and radio in a single system. Infrared transmission is ideal for compact machines, while radio transmission is beneficial in large machines.
Long-lasting accuracy
Even after five million probing cycles, the HEIDENHAIN workpiece touch probes are still highly accurate: with a probing repeatability of 2 σ ≤ 1 µm at a probing speed of up to 3 m/min, these touch probes deliver reliable measurements even after prolonged use.
Versatile mounting
The tool touch probes can be quickly and easily mounted as desired with fixing clamps or a space-saving mounting base. Integrated blowers and a hose connector can also be selected for the mounting base.
Damage protection
The connecting pin on the probe contact features a predetermined breaking point that prevents expensive damage to the touch probe. This breaking point works in all probing directions, while a rubber grommet provides protection from fragments. The connecting pin is quick and easy to replace without readjustment.