KCI 120 Dplus
Absolute rotary encoders without integral bearing
Added second position measurement functionality
High axial tolerance of up to ±0.5 mm
Hollow through shaft diameter: 19 mm
Robust inductive scanning
Positioning accuracy of down to ±40″
1,048,576 positions/rev.
Max. operating temperature: 115 °C
Interface: EnDat
Housing diameter ≈ 81 mm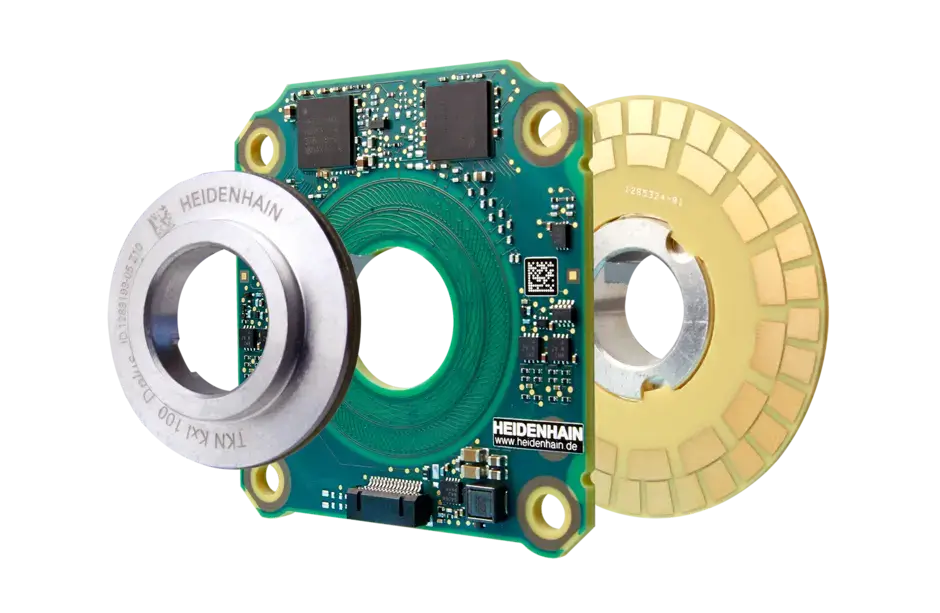 Robust design
Thanks to their robust inductive scanning method, the KCI 120 Dplus rotary encoders are particularly resistant to contamination and magnetic fields. Their rigid design permits high vibration loads of up to 400 m/s² on the stator and 600 m/s² on the rotor.
2D position measurement
KCI 120 Dplus series rotary encoders permit wide mounting tolerances of ±0.3 mm for Encoder A and ±0.5 mm for Encoder B. The circular scales are simply press-fitted onto the motor shaft and output shaft, thus permitting fast and easy installation.
Functional safety
The rotary encoders of this series are available with functional safety and a functionally safe mechanical connection. Once integrated into an application with up to SIL 3 safety, they minimize malfunctions and facilitate the safe operation of machines and automated systems.
Compact design
The KCI 120 Dplus unites two rotary encoders in a single device, offering high reliability in a rugged and extremely compact design. Thanks to its low 20 mm profile, this series is great for tight installation spaces.
The KCI 120 Dplus dual encoder: motor feedback and position measurement in one