ECN 1100 and EQN 1100 series
Absolute rotary encoders with integral bearing
Stator coupling for plane surface
Axial tolerance of up to ±0.5 mm
Blind hollow shaft
Positioning accuracy of down to ± 60"
8,388,608 positions/rev.
Multiturn functionality for up to 4096 revolutions
Maximum operating temperature: 115 °C
Interfaces: EnDat and DRIVE-CLiQ
Housing diameter ≈ 35 mm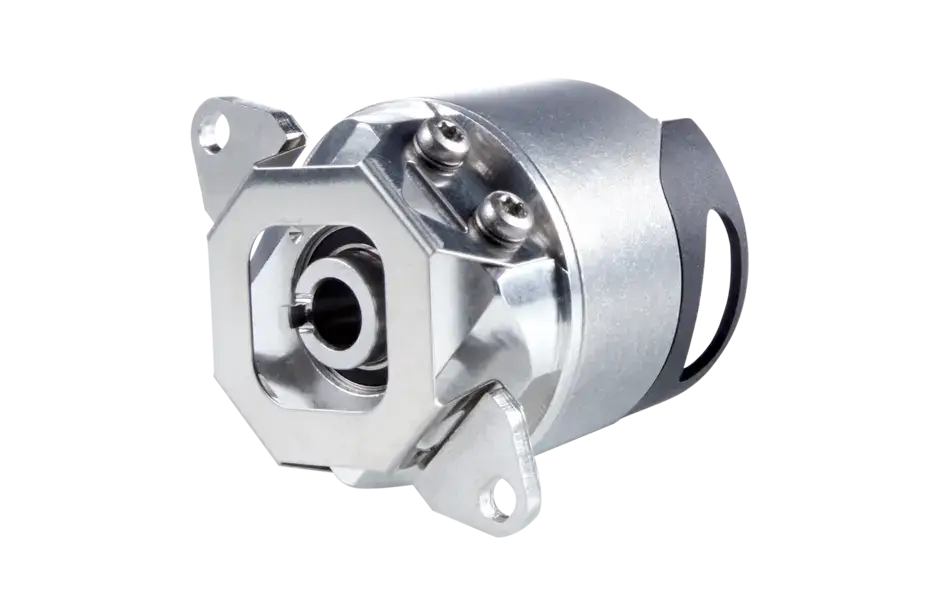 Direct shaft coupling
The hollow shaft allows the rotary encoder to be directly coupled to the mating shaft. An additional rotor coupling is not required. The resulting high rigidity permits higher bandwidths in the control loop, reduces inaccuracy, and simplifies installation.
Functional safety
Rotary encoders from this series are available with functional safety and a safe mechanical connection. Once integrated into an application with up to SIL 2 safety, they minimize malfunctions and facilitate the safe operation of machines and systems.
Flexible coupling
The stator coupling compensates for play between the motor and the rotary encoder, thereby reliably correcting inaccuracy. Even tilt and axial play can be compensated for. The stator coupling also facilitates easy mounting onto the plane surface.
Compact design
The ECN/EQN 1100 series encoders feature high reliability and ruggedness in a compact design. Their small footprint makes them ideal for tight installation spaces.