ROC/ROQ 1000 series
Absolute rotary encoders with integral bearing
Synchro flange
Solid shaft for separate shaft coupling
Positioning accuracy of down to ±60″
8,388,608 positions/rev.
Multiturn functionality for up to 4096 revolutions
Max. operating temperature: 100 °C
Interfaces: EnDat and DRIVE-CLiQ
Housing diameter ≈ 35 mm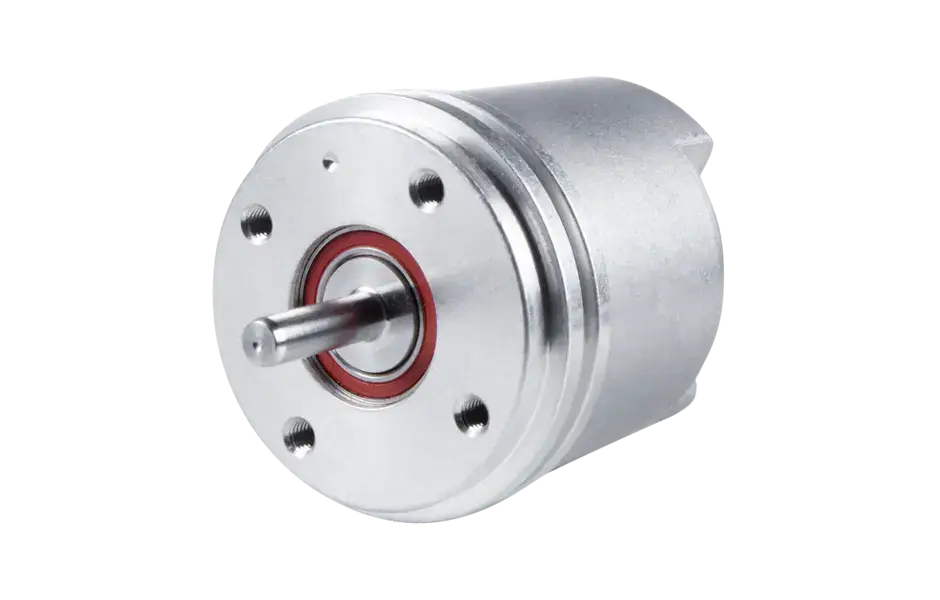 Compensatory rotor coupling
A metal bellows is used to couple the rotary encoder. This coupling compensates for axial movements, radial misalignment, and angular offset, thereby preventing loads on the rotary encoder's bearing and a reduction in service life.
Proven standard
The rotary encoders of this series boast high reliability and perfected technology in a robust design. For decades, they have proven themselves around the world in great numbers and in a wide variety of applications.
Versatile mounting
The ROC/ROQ 1000 rotary encoders can be mounted in different ways. Based on the given requirements, mounting can be performed with fixing clamps and a synchro flange or via a front-face fastening thread and an adapter flange.
Compact design
The rotary encoders of this series feature high ruggedness and reliability in a very compact design with an outer diameter of just 35 mm. Their small footprint makes them ideal for very tight installation spaces.