KCI 419 Dplus
Absolute rotary encoders without integral bearing
Added axial distance measurement
Robust inductive scanning
Axial clamping in motor shaft
Positioning accuracy of down to ±60″
524,288 positions/rev.
Max. operating temperature: 100 °C
Interface: EnDat
Housing diameter ≈ 56 mm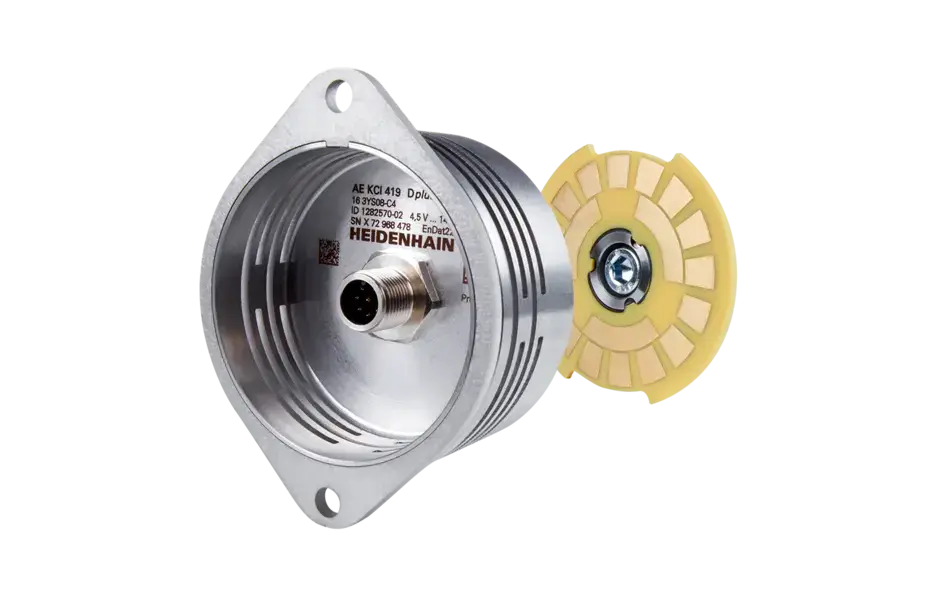 Robust design
Thanks to their robust inductive scanning method, the KCI 419 Dplus rotary encoders are highly resistant to contamination, vibration, and magnetic fields. They therefore provide high operational reliability combined with convenient mounting and cabling.
Two-dimensional position values
The KCI 419 Dplus rotary encoders provide more than rotational positional values and temperature data. Axial distance is measured as well, providing data about the brake stroke and amount of wear for continuous brake monitoring.
Less work
With motor feedback, brake monitoring, and temperature monitoring all in one rotary encoder, this series provides clear benefits in terms of availability and dependability. Since additional microswitches are not needed, installation work is significantly reduced. The EnDat interface also enables very easy implementation.
The KCI 419 Dplus elevator encoder monitors position and brake release