LIF 400 series
Incremental linear encoder with very high accuracy
For high-accuracy linear axes up to 1640 mm long
Longer measuring lengths for LIF 100 upon request
Very small measuring step (<2 nm)
Resistant to contamination
High-vacuum versions available
Position detection via limit switch and homing track
Interfaces: 1 VPP, TTL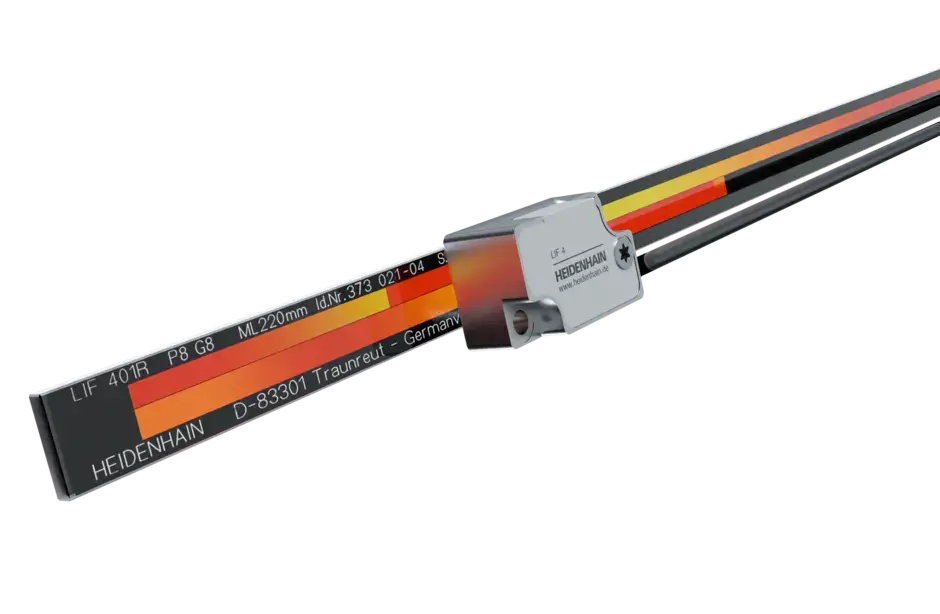 Easy mounting
Small signal periods normally require very narrow mounting tolerances for the distance between the scanning head and measuring standard. For easy installation, the exposed linear encoders from HEIDENHAIN feature wide mounting tolerances with minimal effect on output signal quality.
High-accuracy scanning
The LIF 400 linear encoders use interferential scanning on a phase grating. They feature very small measuring steps combined with extremely high accuracy. Temperature-related errors are prevented by the scanning head's low heating properties.
Consistently high signal quality
The HSP 1.0 ASIC developed by HEIDENHAIN ensures consistently high scanning signal quality. The ASIC compensates for a drop in signal amplitude by increasing the LED current, thus maintaining the optimal signal shape under contamination. Noise is also kept uniformly low.
Application versatility
Thanks to their extensive repertoire of features, the LIF 400 encoders are universally deployable. High integration density makes them very light and compact. Adhesive mounting of the measuring standard is particularly convenient.
Fast referencing
Integrated homing functionality enables position detection and thus faster system referencing, providing a clear benefit for axes with long traversing paths. The integrated limit functionality enables dependable end-position detection without added measures.
Signal-quality indicator
An integrated multi-colored LED in the connector delivers immediate information about the scanning signals and reference mark signal, permitting fast functionality checks and reliable assessment at any time without extra aids.
LIF 400 series: For high-accuracy linear axes up to 1640 mm long