RCN 2001 and RCN 5001 series
Absolute angle encoders for high productivity
System accuracy of ±2" / ±4"
Integrated stator coupling
Hollow through shaft with ∅ 20 mm / ∅ 35 mm
Position values per revolution: 26 bits / 28 bits
High permissible shaft speeds
Integrated temperature sensor
Interfaces: EnDat 2.2, Fanuc Serial Interface αi, Mitsubishi high speed interface
Available with functional safety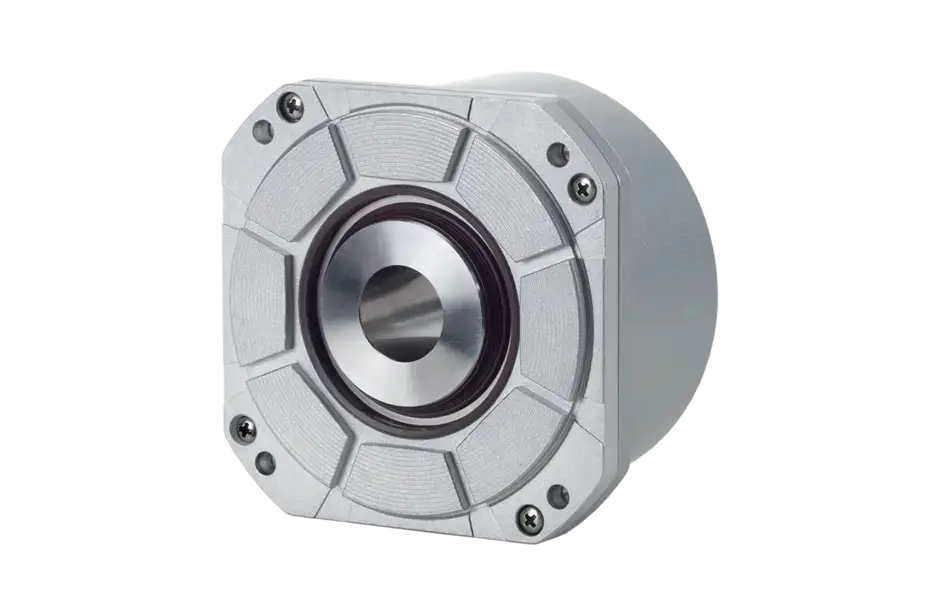 High permissible shaft speeds
With a purely serial interface, the RCN 2001 and RCN 5001 series encoders permit shaft speeds of up to 3000 rpm, enabling applications that are both highly dynamic and highly accurate.
Easy temperature measurement
Evaluation of the temperature in direct drive motor windings can be performed in combination with the EIB 5200 sensor box from HEIDENHAIN. The temperature data and position data are transmitted to the control via the purely digital interface.
High accuracy
The RCN 2001 and RCN 5001 series angle encoders feature a high line count of 16,384 lines and excellent signal quality. Low motor current noise and smooth operating behavior are the benefits, especially in rotary axes powered by direct drive motors.
Reliable scanning
Thanks to optimized scanning, even liquid contamination and condensation have very little effect on the scanning signals or motor control. Disturbances in the machining process caused by encoder contamination are thereby largely avoided.
The new RCN generation: fast and smart