Positioning and speed control system for fifth largest telescope in the United States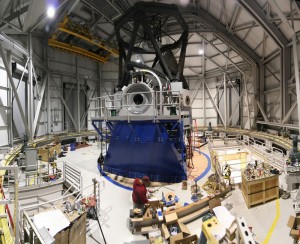 Did you know that HEIDENHAIN components are within the new Discovery Channel Telescope (DCT) that has recently seen its first light at the Lowell Observatory in Arizona?  As part of the DCT's mount and control system developed by General Dynamics SATCOM Technologies (GDST), four HEIDENHAIN tape encoders and an EIB interface system are used inside to assist with its important positioning and speed functions.
Now perched at 7,760 feet in Happy Jack, Arizona, in the Coconino National Forest, the DCT is the fifth largest telescope (4.3 meters/170 in. aperture) in the United States.  A project many years in the making, GDST (Richardson, TX) completed the main structure in 2010.  "We provided the telescope structure, the drive mechanism for the telescope and the control system that controls how it moves," explains David Finley, GDST Product Line Manager, Optical Telescopes.  "We are happy with the outcome and to have attended its First Light Celebration in July."
GDST Control Systems Manager Juan Delgadillo explained that four HEIDENHAIN ERA 880 tape encoders are currently operating within the DCT.  "One works on a full circle providing position feedback on the Azimuth axis, another works on a smaller circle on the Cassegrain axis, while the last two encoders are for the elevation axes," said Delgadillo.  "Those last two provide three signals:  position feedback, velocity information and commutation information for the elevation DC motors."
"Our system performance shows very, very good numbers," continued Delgadillo, listing position accuracy pointing of azimuth and cassegrain axes for 360 degrees of motion at .19 arc seconds (azimuth), 0.38 arc seconds (cassegrain), and elevation at 0.03 arc seconds for 90 degrees of motion.  It is also important to note that the encoder resolution, combined with HEIDENHAIN's EIB 749 encoder reader interface in the DCT, has exceeded Lowell's original specifications, citing .0021 arc seconds for elevation, .0025 arc seconds for cassegrain, and .0025 for azimuth.
Optical and infrared spectrographs and a high-resolution optical imager will be mounted on an instrument cube at the cassegrain focus. Initially, DCT's planned projects will include a survey of the composition of Kuiper Belt objects orbiting the sun beyond Neptune, studies of the physical properties of comets, investigations of the evolution and structure of small galaxies, plus studies of the masses of stars, to name a few.
General Dynamics SATCOM Technologies (www.gdsatcom.com), providing the mount and control system for the DCT and many other telescopes, is a leading supplier of satellite and wireless communication products and services for video, voice and data worldwide.
The ERA 880 encoders used within GDST's DCT structure are part of HEIDENHAIN's family of modular angle encoders without integral bearing. The graduation is applied to a steel tape known as the AURODUR process.  These type of HEIDENHAIN encoders are designed to accommodate very large diameters, high accuracy and produce extremely high repeatability. They are available as full circles or circle segments.