A Manufacturing Success Story
Updated on Sep. 4th, 2019
Manufacturing specialty parts to spec as well as supporting youth-based manufacturing programs has kept Marten Machining in Wisconsin strong and growing in the U.S. for over 30 years. This now large job shop continues to invest in equipment and area youth, and attributes its use of five-axis machining as a significant part of its success.
"It's no secret that manufacturing in the U.S. has its challenges, and Marten Machining has not been an exception," explained David Marten, Vice President of the now 30,500 square foot manufacturing facility in Wisconsin that started out in a two-car garage in 1984. "But to survive and thrive, we've had to continue to look for new ways and projects relevant to the times, keep improving capabilities and invest in area youth to show them the value of manufacturing."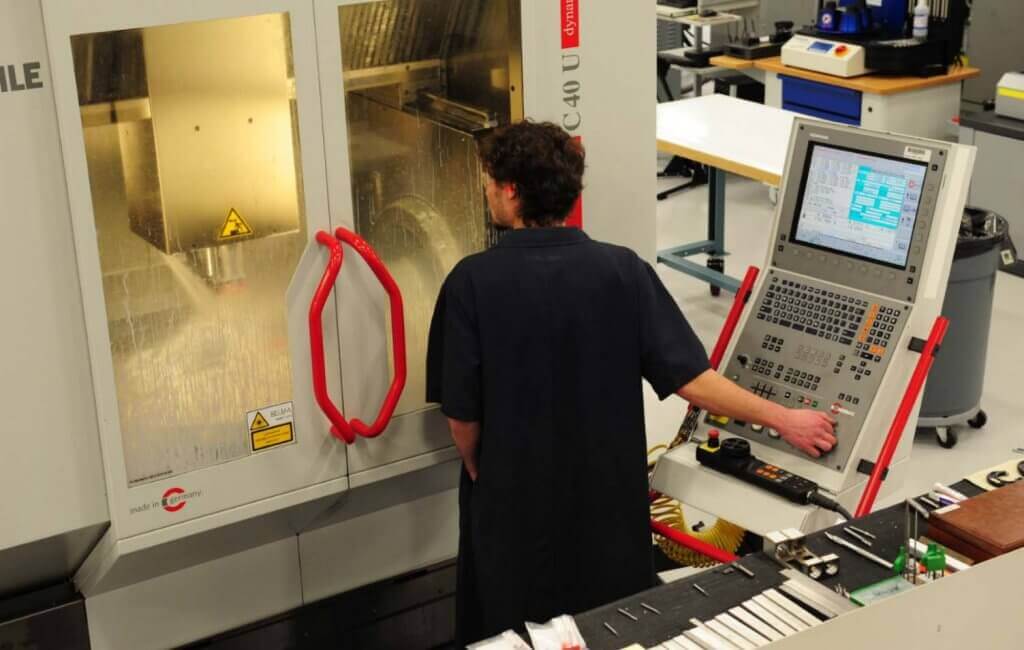 And that they have done. While currently manufacturing parts to order using mostly five-axis and a few specialty machines for a variety of customers, those at Marten also offer complete service including knowledge and support to develop and design new manufacturing strategies that solve engineering challenges and problems. This team of trained staff offer added value in a constantly changing industry.
Now using eleven five-axis HERMLE milling machines that are coupled with HEIDENHAIN's TNC controls, Marten's facility produces parts around the clock for many industries, including medical, aerospace and precision tools to name a few. Serving as a source for many companies that don't have the time or resources to design and produce parts themselves, some complex, Marten is assuming that role for many.
"What has driven our growth even from the beginning is our ongoing commitment to invest in resources to produce specialty high tolerance parts," explained Marten.
Investment/Benefits in Equipment Resources
Starting with only a manual mill, manual lathe and a band saw in his garage in central Wisconsin, Alan Marten opened his machine shop for business in 1984. While making specialty parts for area businesses, Marten acquired a job to machine stainless steel cases used for printing numbers on checks, but needed a more accurate machine to do so as the holes on those parts needed to be held to .0002". So, in 1987, Marten's first CNC machine was purchased. "Our first HERMLE machine with the HEIDENHAIN CNC control could easily handle the job," remembered David Marten whose father is the originator. "At that point, being able to circular interpolate those holes on the CNC machines made the job much more accurate as well as efficient.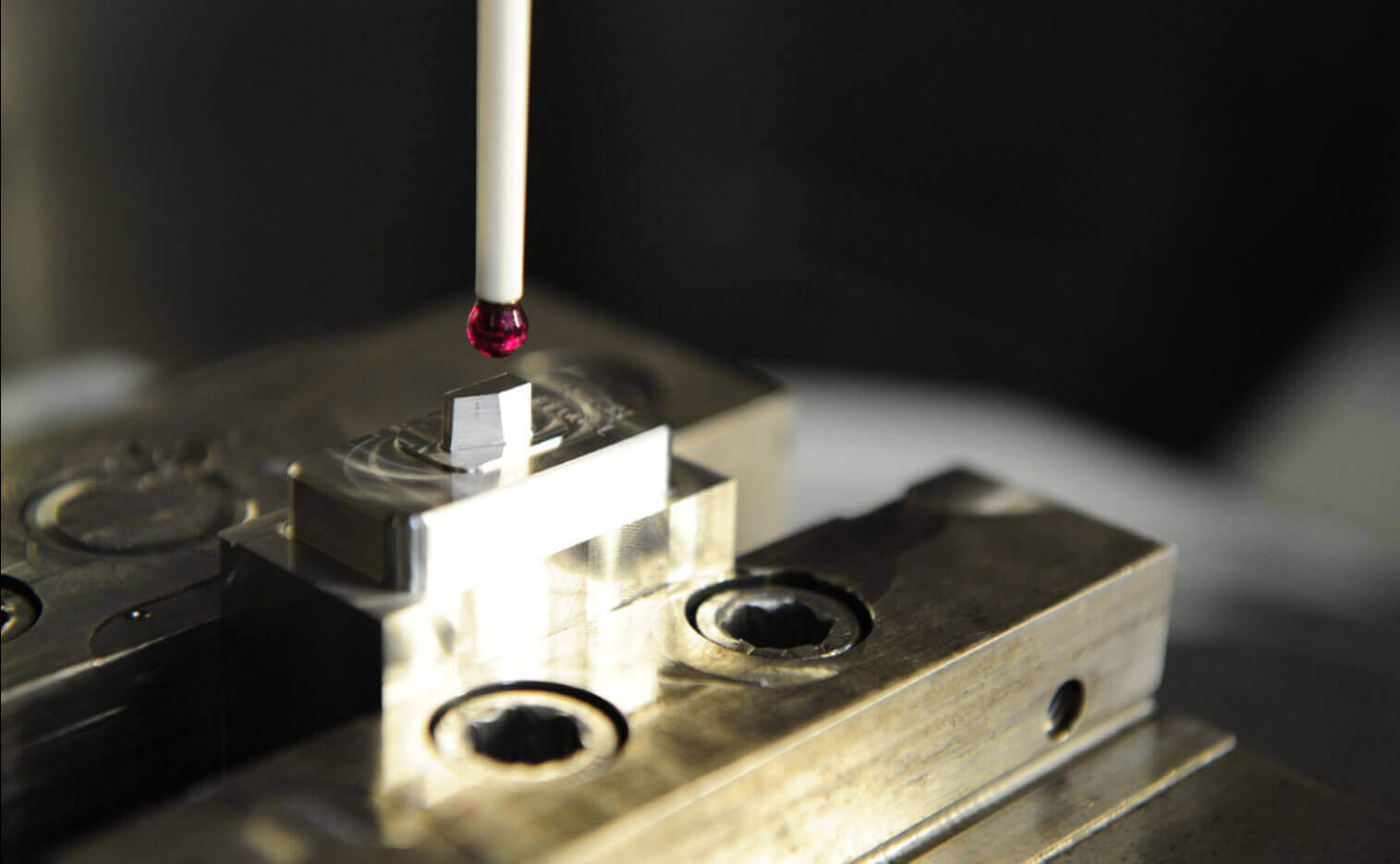 "From here, the business took off," added Marten. With more jobs, came the investment of three more HERMLE machines with the newest in HEIDENHAIN controls to handle the work, and in 1989, Marten Machining built the first section of their current large facility in Stevens Point, WI, moving in the following year. Quality work was followed by more job requests, and in 1998, Marten staff invested in their first five-axis CNC machine, another HERMLE mill with a HEIDENHAIN control with even more advanced capabilities.
"These machines are just easy to understand and use," said Marten. "The HEIDENHAIN control has a whole keyboard right on it, and has a lot of ergonomic and visual prompts. Creature comforts that our operators like, and are helping to make us successful.
"Beginning was indeed our next milestone," added Marten. At that time, David explained that Marten manufactured some parts that were full dynamic five-axis milling, but also used the machine for five-sided machining so that parts that were previously done in two or three operations by changing the work holding and part orientation were now done in one operation. Then, Marten was machining many assemblies for medical parts, as well as fixtures for assembly, test and laser-welding. The successful transition from three-axis to five-axis had begun.
"All along, our CNC control transitions were easy," explained Marten's long-time Shop Supervisor Shawn Demski. "HEIDENHAIN's controls utilize conversational programming, and each model upgrade incorporated advances that just added to our progress such as better tool management and various cycles. I think it is the easiest CNC on which someone new can get up to speed, AND it's really a strong control."
Marten added "What also drove a lot of our new work at that critical time was then being able to review a set of prints, analyze it, and find and resolve any issues utilizing our new capabilities."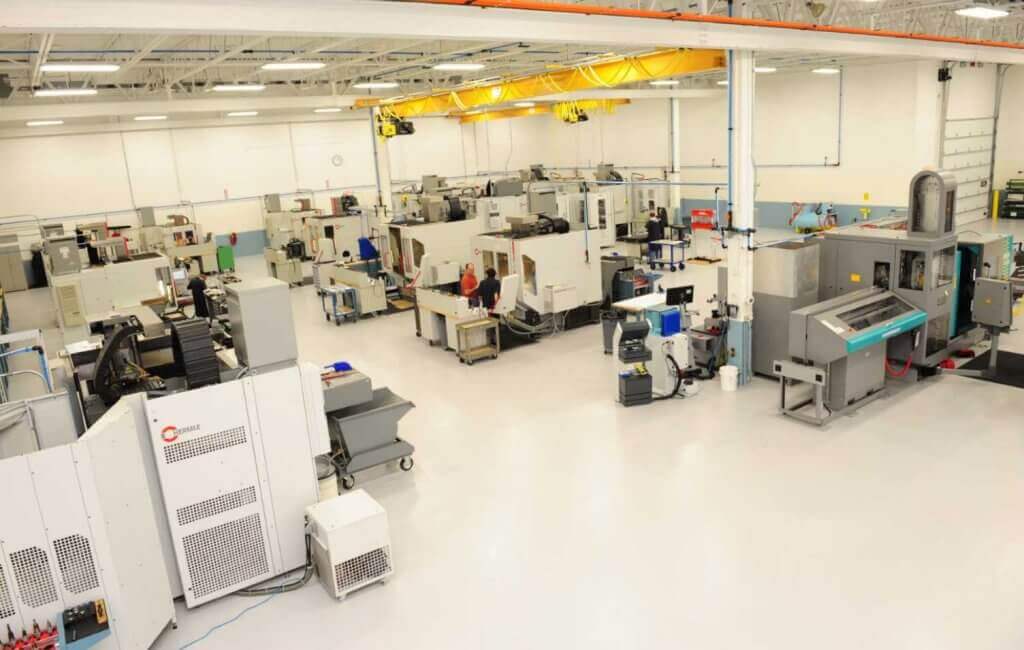 In 2004, when the opportunity to manufacture tough-to-machine radiation shielding that requires long cycle times presented itself, Marten staff soon realized loading material every few hours was tedious so they invested in their first five-axis HERMLE/HEIDENHAIN machine with an automated Erowa pallet. "Finally, we were able to program all of this, and let it load and run automatically on nights and weekends!" explained Marten.
"In 2013, Marten started doing work on component parts for implantable medical devices," explained Marten. "This forced us to develop special inspection processes and adjust our manufacturing as needed in order to ensure repeatability and accuracy during automation. We got ISO 9001 and ISO 13485 certified, and we continue to find ways to improve and move forward."
The five-axis machining era had taken hold at Marten. Demski added "Another great feature to note on our five-axis machines is that they are all set up with HEIDENHAIN's KinematicsOpt cycle so our operators can put in the part, and the cycle will automatically calibrate the machine. So, when the machine heats up and cools down, and you're running different kinds of parts, it can do so automatically and extremely accurately!"
Demski gives an example where Marten recently had to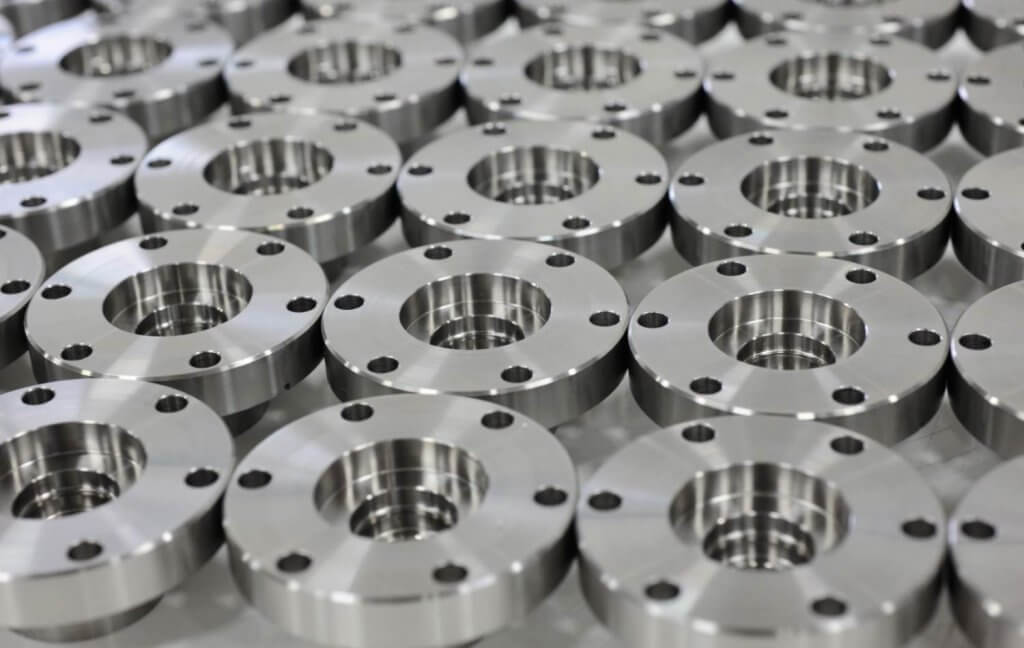 which had to hold the outside to a profile of .00025" using five-axis. With good cutters and the Kinematics feature enabled, they were able to hold it repeatedly. "The controls we are now using are the HEIDENHAIN iTNC 530 models, and are very capable machines," added Demski. "We often have to cut very hard material such as inconel and hastelloy, and do so well. We recently finished machining some 24-inch long aluminum aerospace parts using five-axis, and with all parameters and cycles set up in the control, even our first piece off was good. Overall, anytime you can eliminate a machining operation such as when using five-axis, you're better off, and this is especially true with sensitive aerospace parts."
Continuing to grow and invest in similar equipment, Marten now has many HERMLE/HEIDENHAIN machine workhorses with pallet automation on site, as well as some additional finishing/specialty machines such as CMMs. "We have three more five-axis HERMLE machine on order now, and these will all have the newest HEIDENHAIN TNC 640 control on board with even more capabilities," added Marten.
Investments/Benefits in Training Area Youth
With state-of-the-art equipment in place, successful manufacturing businesses also requires knowledgeable operators to handle the incoming workload. Marten management understands that, and is and has been devoted to many area youth-based manufacturing training programs in order to attract educated employees. "Not only did we have seven apprentices work with us this past year, but we also volunteer at the local high school's machine shop program, as well as partner with regional tech schools, and participate in the local school district's 'Heavy Metal Tours' program," said Mar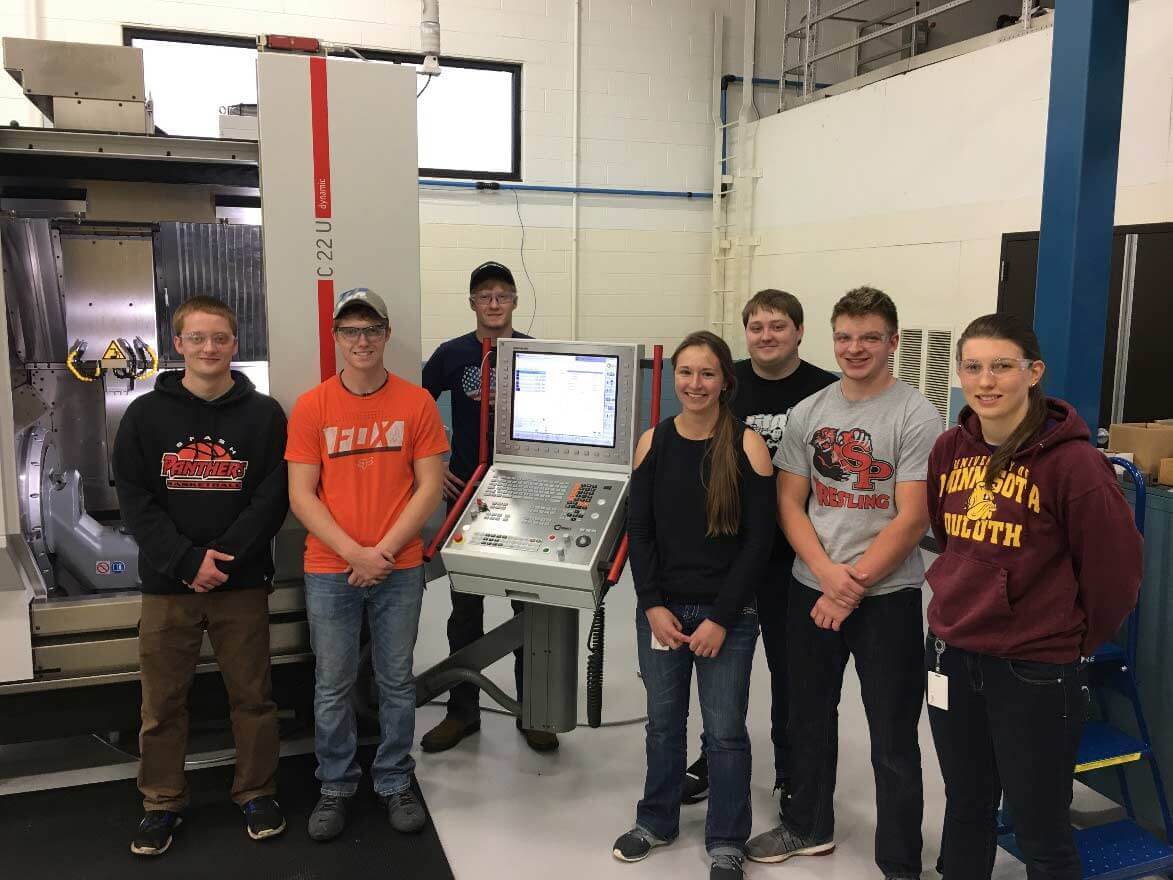 ten.
The fourth annual Heavy Metal Tour was held in central Wisconsin this past October where over 100 sixth and seventh graders were bussed to various manufacturing facilities to see them in action. At Marten, besides the annual cutting demonstration at a manual lathe given by Marten founder Alan, control stations are set up where CNC instruction and programming experiments can be done.
"In one area, we lay out a coordinate system to make a 2D part profile. Then the students put those coordinates in the control and run the program to make a part," said Marten. "We also do a sample job using aluminum with a high-feed tool path on one of our newest machines, the HERMLE C22 with a HEIDENHAIN iTNC 530 control. The kids really get a kick out of it because it moves fast, chips are flying and it's making a lot noise, while at the end, they end up with a flawless finished part!"
Staff at Marten also offers each tour student the opportunity to take an aluminum tag that incorporates the "Heavy Metal Tour" title and machine their own name into it to take home." Marten stresses that the immersive experience for the students is very important, and added "they need to see manufacturing as the interesting, viable and important employment option that it is. Then it becomes a real option to pursue as adults."
The apprenticeship program at Marten began in 1992, and has grown ever since. Many of Marten's high school student apprentices work full time there over the summer, and some have even come back after secondary schooling to pursue careers. "To handle manufacturing programming requires technical and problem-solving skills," added Marten. "We show our apprentices and students that math does matter, but creativity is important too."
Marten recounted an art teacher that spoke to him after a previous Heavy Metal Tour part-drawing demonstration who said that she "didn't realize a job like this would require so much creativity". Marten answered, "it does, and we are always looking for those future employees with a combination of those relevant skills."
Demski added "we offer valuable employment opportunities to many with those necessary skills, and by doing so, we are very happy to help continue to grow this community."
Summary
"Young people are the future of manufacturing," said Marten. "And we're seeing some real energy and interest here to grow this business," who added that the learning never stops. Even at Marten, equipment training is set up as a regular program.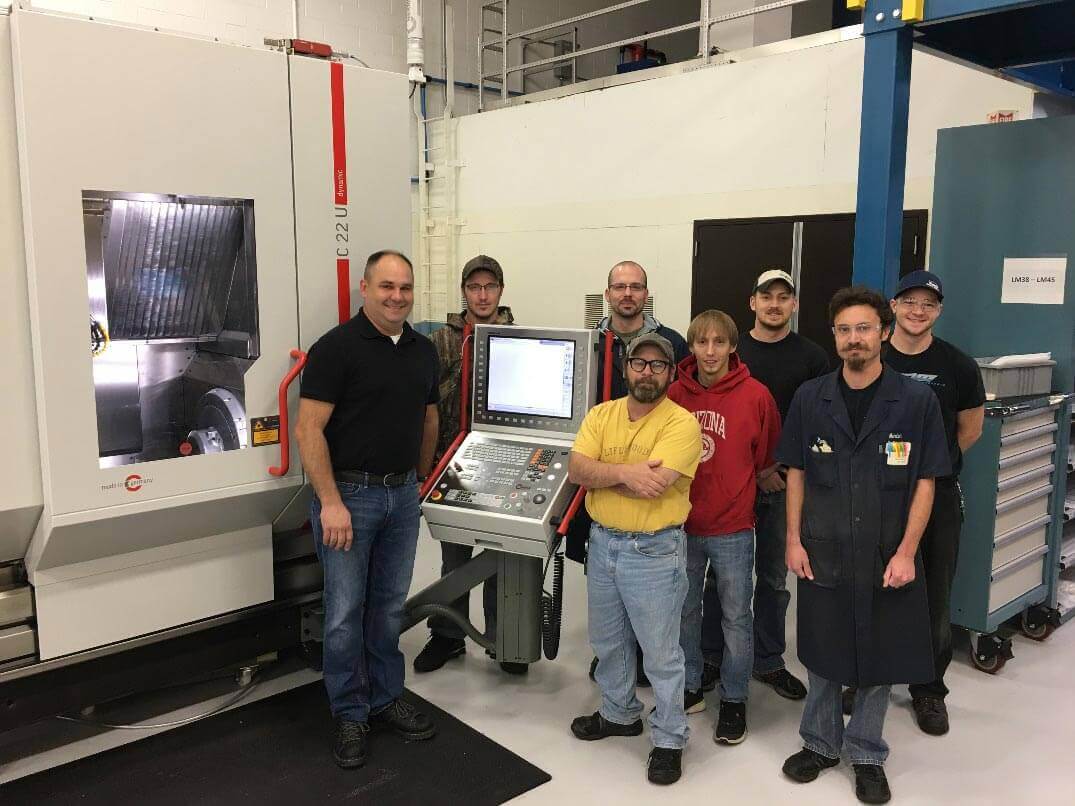 "Even now, for example, two of our SPASH student apprentices (Stevens Point Area Senior High), are staying late on Thursday nights to do MasterCam training to create programming, then put it into our HEIDENHAIN controls. This provides great value to them and to our organization."
That, coupled with the keeping atop of the latest in manufacturing equipment advancements is keeping Marten viable and very competitive in the U.S. manufacturing sector.
New made-to-order parts with the five-axis machining are typically done at Marten and delivered to the customer within the U.S. in three to four weeks. "In 1998, we saw the opportunity to take advantage of and learn this new five-axis machining technology," explains Marten, "and we continue to keep growing with it today."